Before we shared these rumored "The Book of Boba Fett" crew graphics, there was speculation "Buccaneer" was the working title for Season 3 of "The Mandalorian" last November and December — before and even a little after Boba's show was revealed. But that's been flipped on its head with a series of new reveals, which we'll break down one by one here.
(Not familiar with the term "working title" for a film or television show? It's a temporary name for a project while it's being developed or filmed to help disguise the shoot. It's not a title that will end up in the series itself.)
While officially unconfirmed, these possibly-real crew graphics show "Season 1" adjacent to the name in one, plus "The Book of Boba Fett" in new and old formats in the others. The new series coming this December on Disney+ has been presumed to be a mini series, but it very well could be a fuller 8-episode season if not even an on-going season, as implied by "Season 1" on there.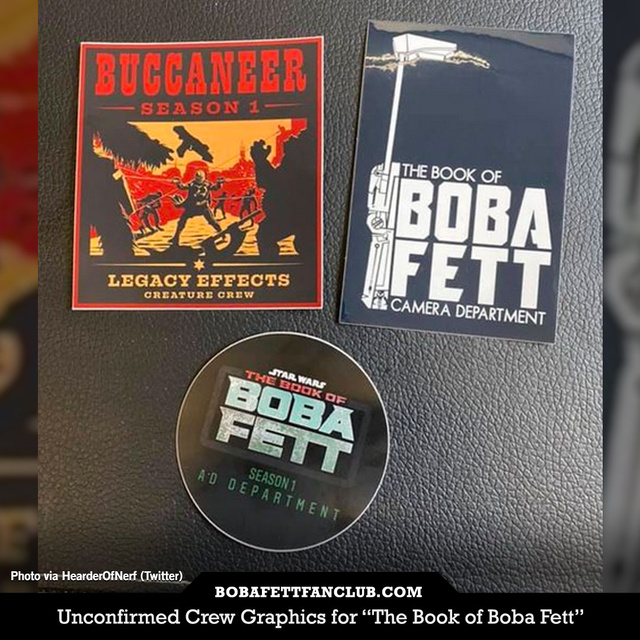 It's also worth noting that there sure is a lot going on in the Legacy Effects one. There's a Wookiee dropping what looks to be a Clone Trooper's DC-15 Carbine blaster, spotted by BFFC fan Baconator_Prime (Twitter). BFFC fan NathanCollect also thinks Fett may have a wardrobe change given the different cape in the "Buccaneer" graphic.
But that's not all — it's just the tip of the iceberg. After sharing the above image, which HearderOfNerf first signal boosted on Reddit and Twitter, a BFFC member shared something else that mentioned "Buccaneer" recently.
BFFC member alilmothman sent us the following photo from OC Celebrity Marketing's April 2021 signing with Temuera Morrison, where you can see he's wearing a "Buccaneer" sweatshirt with the same typesetting, aligning with rumored "Creature Crew" graphic. While we knew Temuera was doing this signing, it's a nice clue given what he was wearing, clearly the real deal.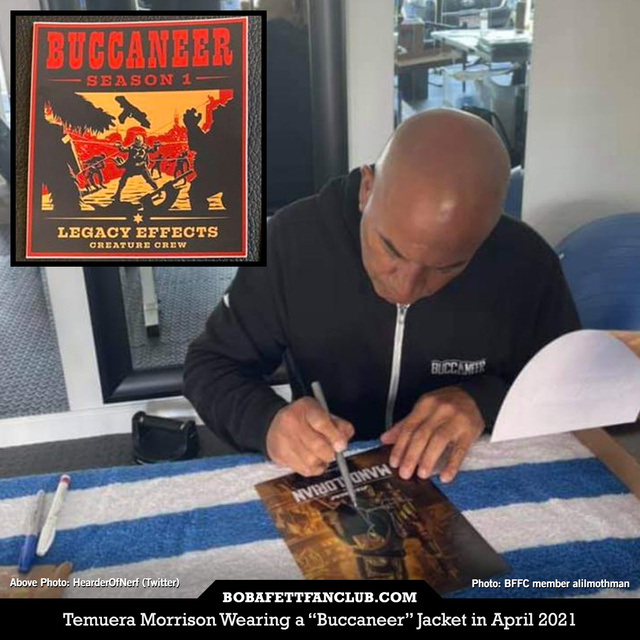 HearderOfNerf circled back to our post, noticing how the font is very similar to "The Mandalorian" on the sweatshirt. BFFC fan SWTV_Updates (Twitter) also observed the similarity, plus how "they've also been using the font on Bad Batch posters recently."
After reviewing more photos from this private signing, where you can see a little more of Temuera's arm, BFFC fan Magiclueless (Twitter), via SWTV_Updates, noticed the graphic on the arm of the outfit is Jon Favreau's production company logo, Golem Creations.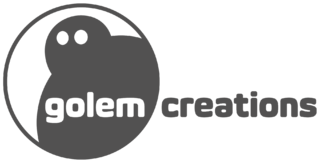 When we posted the set of three, BFFC fan dwnwrd (Instagram) wrote in to say the "Ad Department" one has actually got one via a crew member, so there's quite an endorsement for the legitimacy of that one.
BFFC contributor The Ironwolf (aka BestOfFett on Twitter) had some good insight as usual to add: "I also really like the camera department one because it utilizes the rangefinder. Since Mando doesn't have one, it's sort of become a recognizable symbol for Fett which I think is neat."
Then, cosplayer MinuteFett reached out to us about crew items up for sale via Production Treasures, one of which name checks "Buccaneer." While the site featured a fan made poster for "The Mandalorian" as a placeholder, we confirmed it was an accident and they swapped it with the official placeholder. Production Treasures, run by an individual in the film industry, is considered a legitimate site.
1. "Fixtures" Crew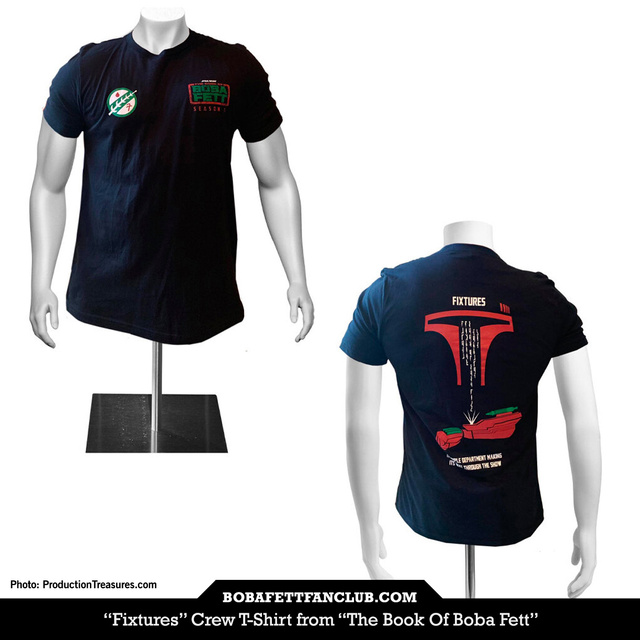 Sold for $375.
2. "Buccaneer" Mask Holder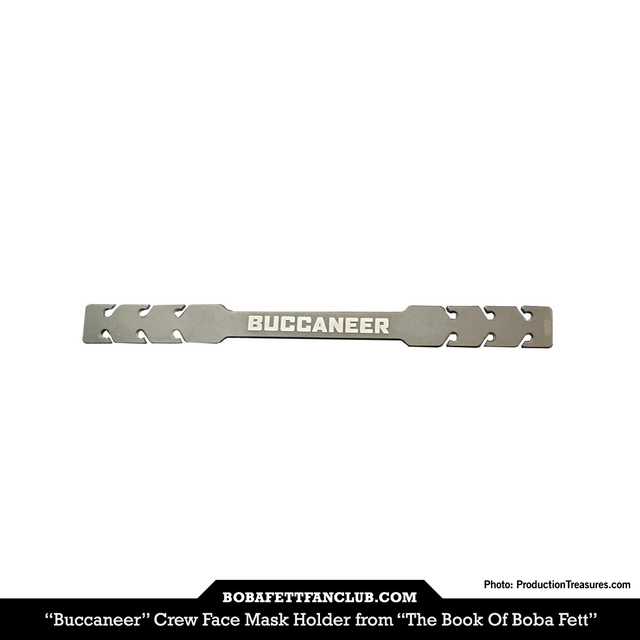 3. "The Book of Boba Fett" Gift Set with Guitar Picks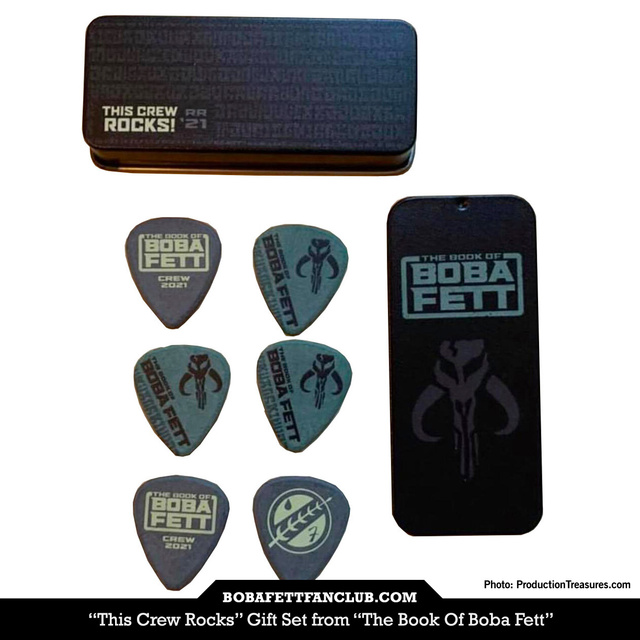 4. "Set Lighting" Crew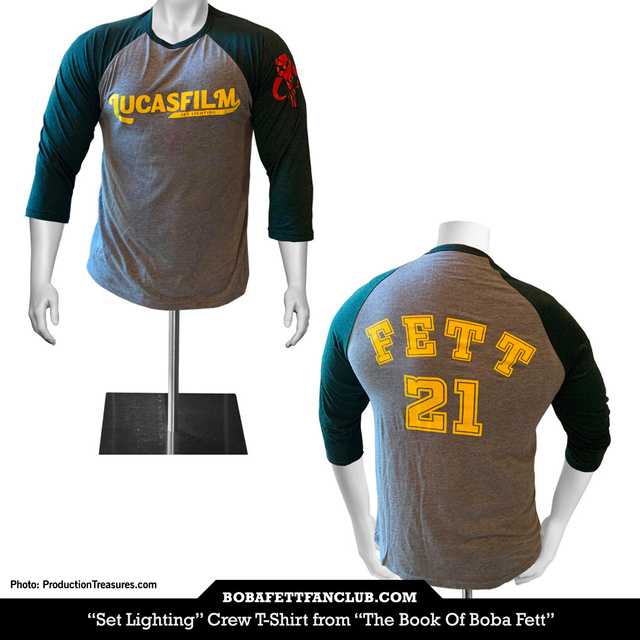 Sold for $500.
5. "Creature" Crew T-Shirt with Grogu on the front and "Buccaneer" Season 1 / Legacy Effects on the back (added 5/26)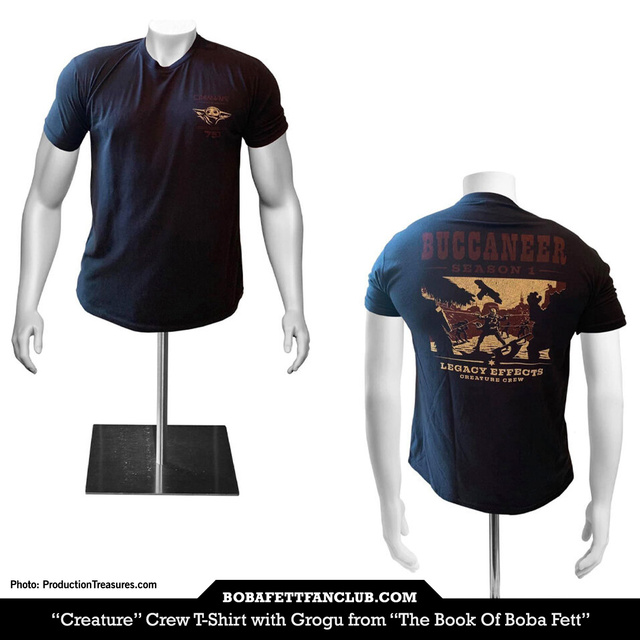 6. Crew Hoodie (added 5/26)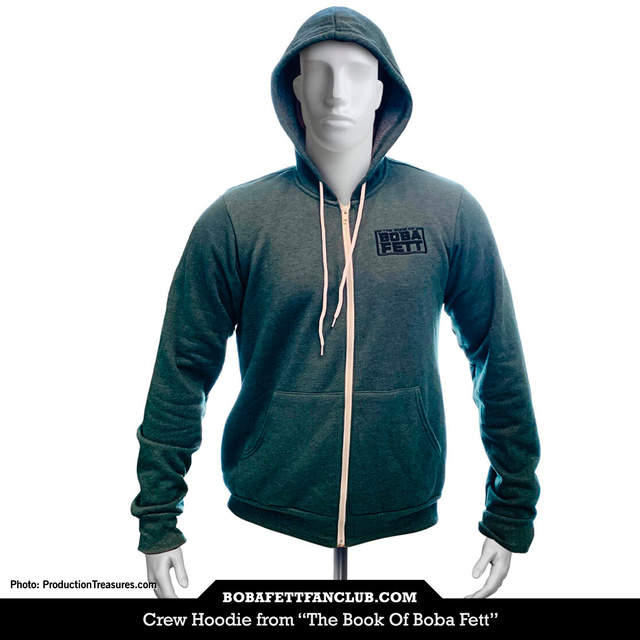 Sold for $500.
7. "Stunt" Crew Hat (added 5/26)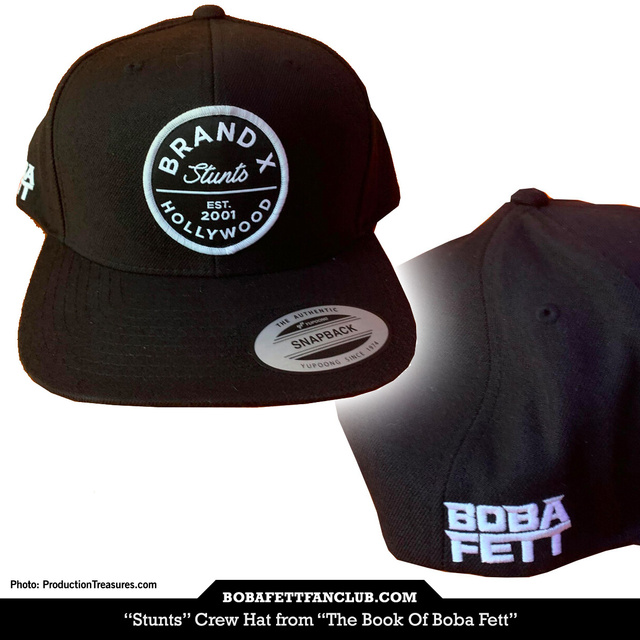 8. Crew Stickers and Wrist Bracelet (added 6/7)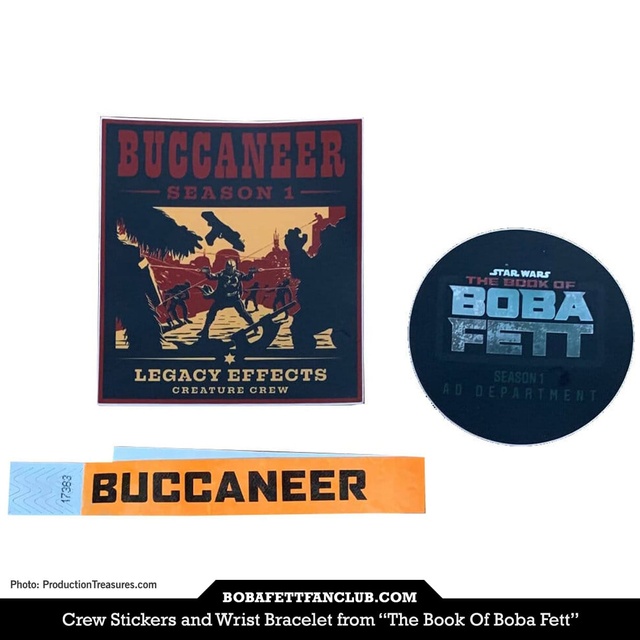 9. Season 1 Crew Pin (added 6/7)
10. Camera Department T-Shirt (added 6/7)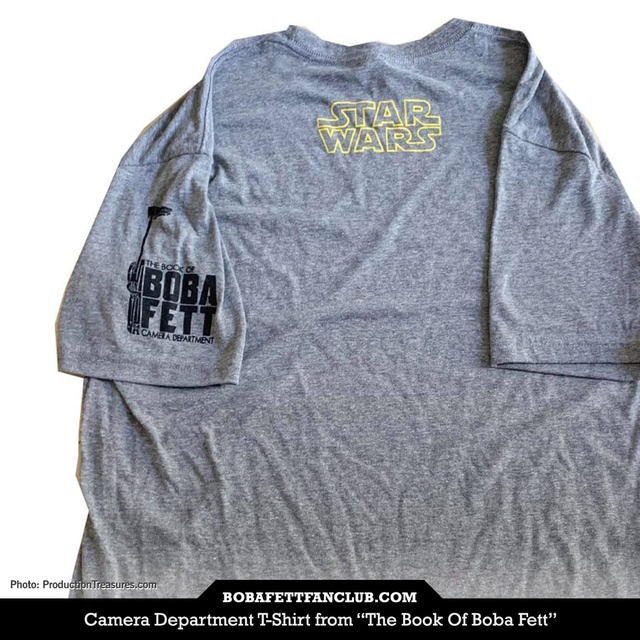 Sold for $350.
11. Art Print (added 10/15)
12. Fennec Sticker (added 10/15)
13. Bag (added 10/15)
14. Set Lighting Department Shirt (added 10/15)
15. Sticker (added 10/15)
16. Wristband and Pins (added 10/15)
17. Ad Department Stickers (added 10/15)
All in all, short of official confirmation (which is unlikely for a working title) this adds some validity that 1) "Buccaneer" is indeed the working title for "The Book of Boba Fett" and 2) at least one crew graphics is real if not all four — Creature Crew, Camera Department, Ad Department and now Fixture Crew.
What do you think, especially now with Temuera wearing this "Buccaneer" sweatshirt?
(Note: for all the BFFC fan mentions in this, we use that term when the person follows BFFC on social media. If we also know they're a member of the site, we switch it up to their name on the site.)