As of last week on October 23, Lucasfilm has a new trademark filing for the word mark "Boba Fett," adding upon the still "live" filing from 2010, following numerous others "dead" ones since 1978.
Let's take a look at each record, which calls out fiction books to posters, courtesy of the United States Patent and Trademark Office (USPTO) where the records are available to the public.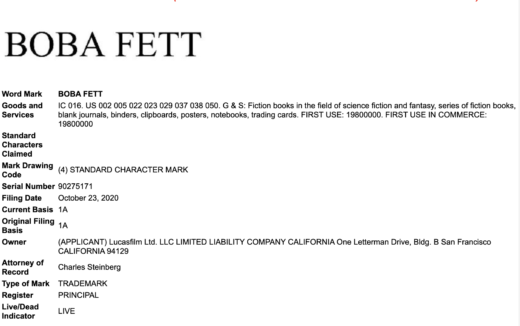 According to USPTO, you're supposed to re-file every 9 to 10 years, which is what they're doing here:
Owners of registrations not based on the Madrid Protocol must file a Declaration of Use and/or Excusable Nonuse and an Application for Renewal under §§8 and 9 of the Trademark Act between the 9th and 10th years after the registration date, and every 9th and 10th-year period thereafter, calculated from the registration date.
Here's a copy of the 2010 one, which hadn't expired and calls out costumes and toys: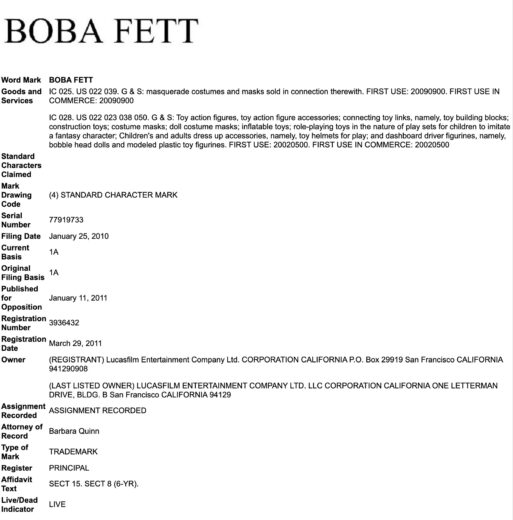 If you look further back, there are four more trademark filings for the word mark "Boba Fett," but they're considered "dead," which is normal as time goes on.
Here's the 1984, citing figures and cake pans: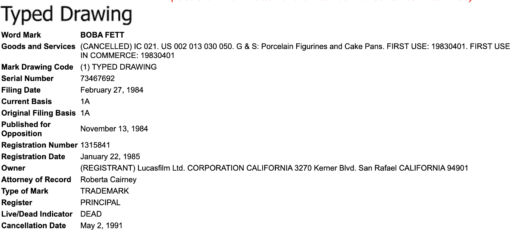 Here's the 1983, mentioning bookmarks for the goods and services block: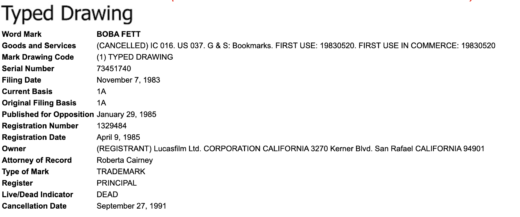 Here's the 1982, covering sleeping bags to bedspreads: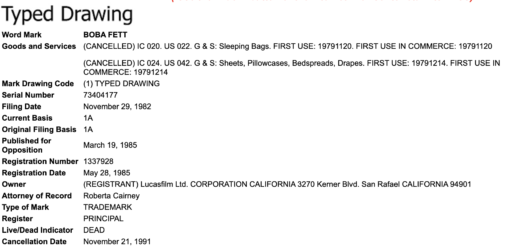 And here's the 1978 filing, simply mentioning action figures: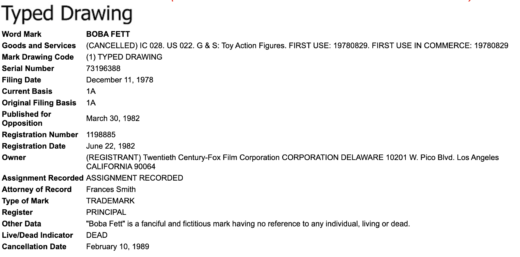 What do you think it might mean for the original trilogy bounty hunter, rumored to appear in The Mandalorian Season 2, which begins this Friday?
Helmet nod to our friends at Yakface.com who first noticed the trademark filing.