Introduced via Steven (aka boba87fett), who runs the Boba Fett Builders site, we spoke with John Haigh who is the Managing Director at Elstree Precision Co. Ltd. They've recently completed a limited edition replica project that has a vintage Star Wars connection to the authentic Boba Fett prototype costume work done by the same company back in 1978. They're also doing another project that celebrates almost all the components they made for the Original Trilogy including parts from R2-D2, C-3PO, and Darth Vader.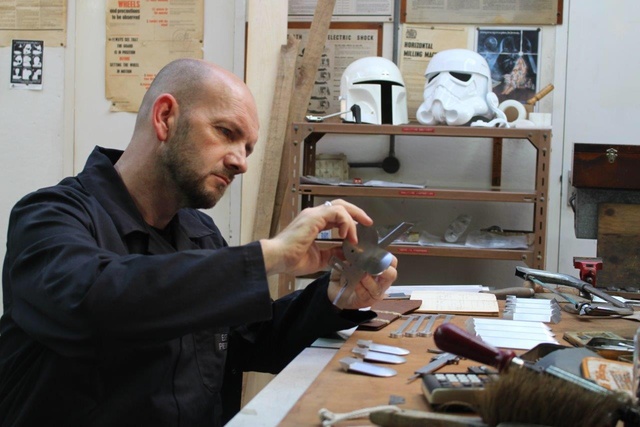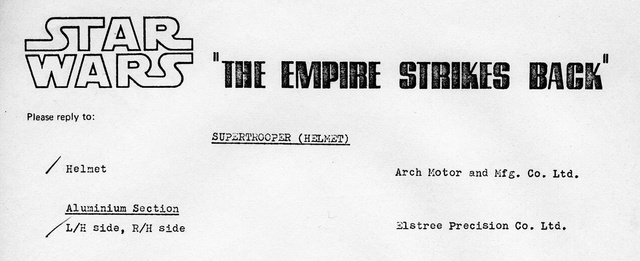 Tell us more about your company's original involvement with the precursor to the Boba Fett costume – the Supertrooper – like making the helmet rangefinder stalk, the helmet "ears," and the left arm gauntlet laser.
As an enthusiastic Star Wars fan (shall we say?) I've always enjoyed the stories told by Drago [Dragomir Dundjerovic] and Chris [Cudby] during tea breaks. I was often invited to join them for tea when I visited Elstree Precision (EPC) to collect work they had done for me. From being a customer in 2010 it was a surprise to be offered and be in a position to purchase the company from Drago and his wife (Jane) only 5 years later.
During 1978, after working heavily on Episode IV with Lucasfilm's machining metal components for C-3PO, R2-D2 and even Darth Vader, Norman Reynolds approached Rod for help on a prototype suit for Chapter II productions. A super (storm)trooper.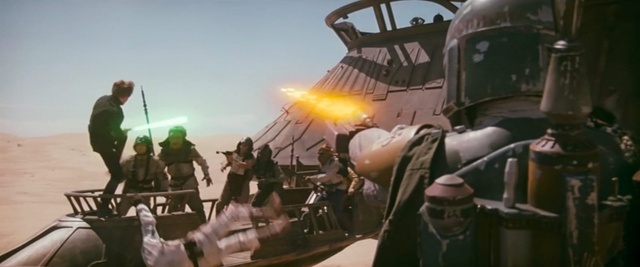 Rod (founder/owner) was asked to produce the aluminium parts for new concept helmet and integrate a microswitch to operate some electronic function. Rod created the parts, taking notes as he went, and these parts were fitted to the prototype suit which then became Boba Fett before the screen test. He was also asked to create a wrist mounted rocket/laser/dart firing unit (named "laser" on paperwork) and again, Rod would have overseen the design and manufacture with a mix of turning and milling required. Rod chose to use a certain grade of copper for the multi holed cone based on what we held in stock for aerospace clients at the time.
Once approved, a quantity was ordered and Drago was tasked to follow Rod's notes and produce a batch to meet the order.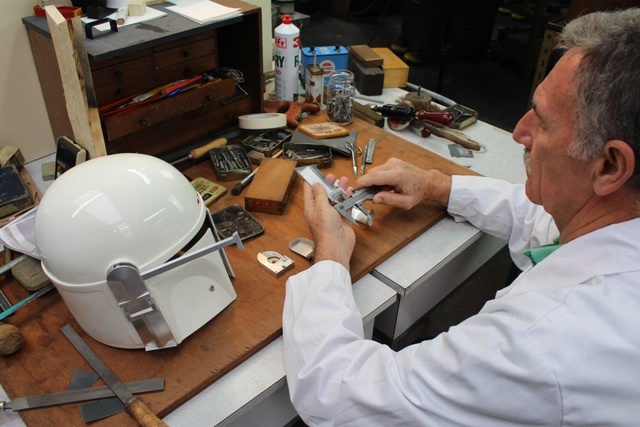 Can you tell me about Elstree's original craftspeople, Dragomir Dundjerovic and Chris Cudby? How were these parts made originally, like what kind of machinery was used back in 1978?
Drago started work at EPC in 1973 under the watchful eye of his father in law and company founder, Rod Lassetter. Drago, originally from Montenegro, joined EPC with Rods son, John. When Rod hung up his calipers the company passed to Drago, Jane and John. In 2003, John left the business and I took over the reigns in 2015. Drago is still an active consultant for the business and we see him as much as he is allowed out to play. (Thanks Jane.)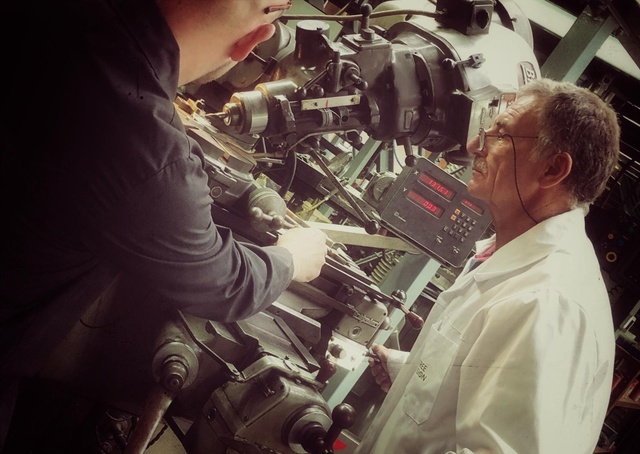 Chris joined EPC during the Empire Strikes Back filming so as a school leaver he would have done roughing out and prep work for the props. As a huge Star Wars/Marvel/DC fan he enjoys telling his family what he did every time an episode is on the TV. I'm sure they love hearing the stories. Again. And again. Chris's father in law was a prop painter at the studios, and there are stories of him bringing strange looking helmets home to paint at the weekend in his shed.
Amazingly. Most of the machinery used to make these parts is still in our factory and are fully functional and utilized. We even have machinery from 1961 that is still in daily use. The specialized components that EPC make today relies on manual machining with constant monitoring rather than modern CNC machining. As they say, "if it isn't broken….."
With the replicas you've been making, surely there are easier ways to make it, but how are you able to make it the original way in terms of process and materials?
Absolutely. There are now CAD files for these parts that can be used to program modern CNC machines. But this will always create compromises. In a normal world, these can be accepted due to the huge cost saving and repeatability that this process creates.
But I wanted to learn exactly how Drago and Rod made the originals. That was the whole point. So we set about with a mix of data provided by fans and enthusiasts along with Dragos notes and processes.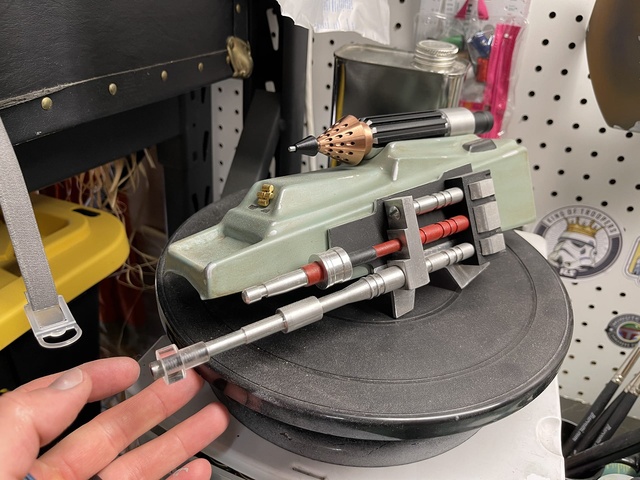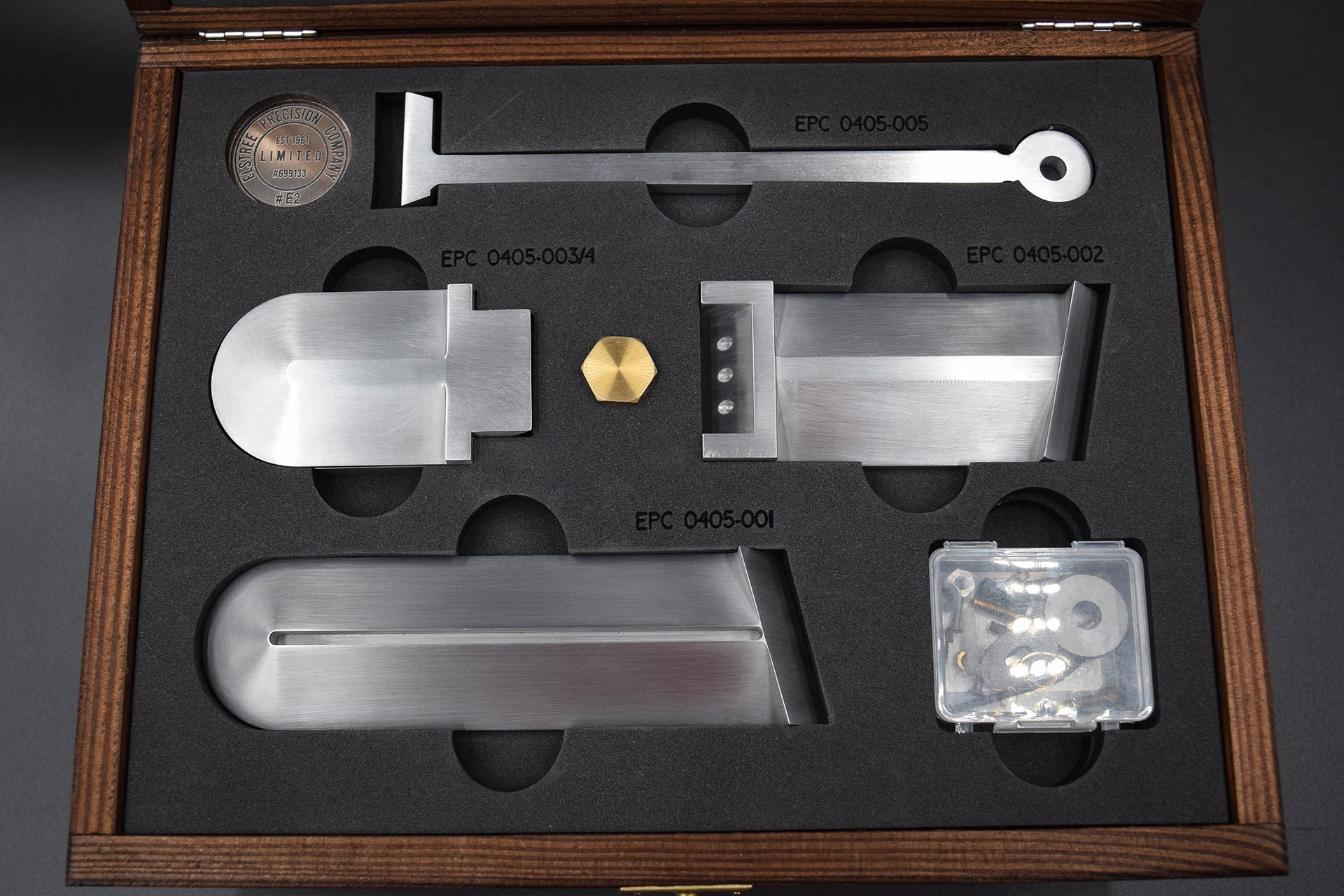 Steven, who is certainly an expert Boba Fett historian, has been instrumental in promoting (or more?) a series of replicas that cosplayer fans have been able to order. How has it been working with him throughout this process?
As a thank you to Steven for providing incredible support, data and enthusiasm we decided to create a small batch of continuation sets for his die hard forum community. It was a significant non profit project but with the global pandemic taking hold, we decided it could be the right time to celebrate the company's 60th birthday by highlighting our mainly unknown involvement in the original Star Wars trilogy. It has been great fun working with Steven and his friends. I truly hope he has enjoyed the journey as much as I have and hope that the recipients of the pieces we created together enjoy them.
There's not one, not two, but three variants: Supertrooper, Empire, and Jedi. Generally speaking, in as much or as little detail as you'd like to geek out about, how are each different?
Geek out? Probably best to ask Steven how many hours I've spent examining photos.
For example, we noticed a tiny imperfection in the machining of the right upper ear cap. But it's only seen on the ESB helmet. So we modified a tool, just to create this tiny defect.
The list goes on. But essentially, in the 1970/1980's they were just parts. All the same. No one knew what the franchise would become and how these tiny differences are now explored and examined.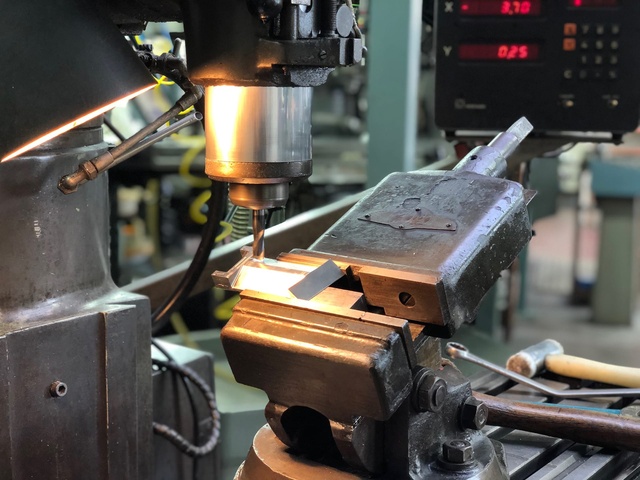 Are there plans to sell more, or has that ship sailed as a limited edition back in February?
We have no plans to make any more helmet parts. It was a gesture to the fans. When I say non-profit, a loss making project would be more descriptively correct. But we did it as an educational and historic project. We respectfully turned down the offer to be credited in 1977, so with this project we got to show what we did, and more importantly that we are still operating, with Drago and Chris, in the very same building in Elstree.
I would love to have Drago in to make a full set (or a small batch) of helmet parts in it's entirety. How amazing would that be! We just need Jane to let him play out again after lock down.
Thank you for your time and looking forward to your upcoming projects!
Special thanks to Steven for providing all of the imagery for this article.