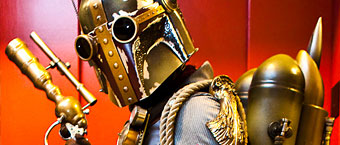 VladislausDantes, aka Danny Ashby, put together an elaborate Steampunk Boba Fett costume. Sewing is by Lindsay Hamilton and Christa Wood, while the design, gear, and weaponry is by Ashby, who's based in Georgia.
OutlandArmor.com has a fantastic gallery. Yet another example of creative takes on Boba Fett costumes.
Photo (alternate angles: 2, 3, 4) by LJinto, who also shot some Fett-inspired costumes at Dragoncon 2009: 1, 2, 3, 4
Any favorites out there? Link it up in the comments below!
(via tcritic.com)
(Extra: Back in Halloween 2009, we caught a different Steampunk Fett over on actress' Felicia Day's Twitter.)