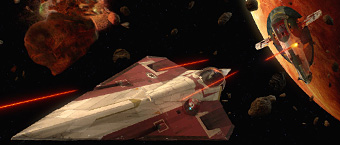 Today at the Vista in Los Angeles — one of the remaining single screen picture palaces — editor John Venzon (@animeditor) premiered his fan re-edit to a packed crowd of friends, family, and industry professionals. The film takes the perspective of Obi-Wan Kenobi as the hero. We were there — and it was incredible.
Between flashbacks in "The Mentor" between the prequels and A New Hope, when we see just one of Obi-Wan Kenobi's interactions with Jango Fett, it remains very mysterious. Nobody is unmasked. Young Boba Fett and Kamino are gone. Most importantly, Jango doesn't have any lines — and dedicated shots. Instead, we cut to the chase with the dogfight over Geonosis. Venzon's choice of quickly including a shot of the masked Fett inside Slave I from "Empire" — and that's as close as we get. If any of the directing/casting/acting/dialogue of Fetts in the prequels bothered you, this fan re-edit will make you smile, and remind you of how great Fett's portrayal was in the original trilogy.
Watching "The Mentor" on the big screen made it feel like the prequels could have had some of the same energy and pace of the well-regarded first "Star Wars" film. This re-edit gives us a fresh perspective focusing the narrative around the initial act of "A New Hope" where Obi-Wan is the hero instead of Luke Skywalker. It's a testament to the power of editing when it's also just using existing footage from the saga, some editing tricks like elongating a subtle smile, and some re-mixed scoring cues.
Venzon, who you may recognize from "The People Vs. George Lucas," works full-time at Warner Bros on a forthcoming 2017 feature. In between that work, he cut this in less than four months during just spare nights and weekends. He used Harmy's "Despecialized" Edition as its source material, as well as a cut-scene from a DVD bonus feature and some choice moments from the Complete Saga Blu-ray release.
Fan re-edits are nothing new. Like fan films, they're using existing footage. Two years ago, actor Topher Grace was in the news for re-editing the entire prequel trilogy into one 85-minute video.
Because of its nature as a fan re-edit, you won't find this film for sale. Because of the total length of "The Mentor," and a word-of-mouth strategy, you also won't find it on YouTube or Vimeo (for now). However, you may find it for free if you look in the right places/times:
Visit a torrent site of your choosing
Search for "Star Wars The Master Fan Re-Edit" or something along those lines
Grab the 3.7gb or so file
Watch and enjoy the fan re-edit
If you've seen it, or heard about it, let us know in the comments what you think.
UPDATE: The filmmaker has the film now on Vimeo!