Just in case anyone needs a weekend crocheting project … or you want to make some friends from a galaxy far, far away.
This photo of a crochet Boba Fett with C-3PO comes from telshira, who posted a lot more photos of this series on Imgur. For one of many crochet templates to make a doll just like this, check out Craftsy.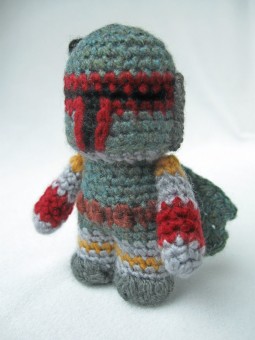 There's a popular smaller scale one, originally done by Lucy Collins (aka lucyravenscar). She originally sold the "amigurumi" template on her Etsy and Raverly, but she removed it because she has now an official Star Wars Crochet activity book (see Amazon.com), which includes more about it.
Other fans have done crochet Boba Fett hat / beanie, perfect for cold weather. There are so many variant patterns of this, and sellers come and go (and some knock off the work of others), it's even hard for us to follow. One good place to start is a search for "Boba Fett hats" on Etsy and then weigh the price and ratings to choose wisely.
We found another fan who made a crochet Boba Fett bag, which looks like a fun variant.