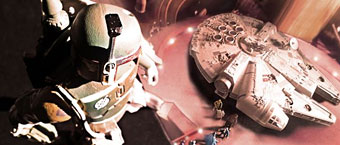 Calum Jones is a freelance photographer based in London who has created an on-going series of popular Star Wars photos on Instagram, featuring original compositions that go beyond the film. Just action figures and some digital effects, they look almost right out of the film itself. Several of his shots feature Boba Fett and, here at the Boba Fett Fan Club, we reached out to ask some questions about his work.
How did you start this series particular of Star Wars photos?
Calum Jones: For a long time, I'd been posing and setting up figures for fun, but back in April last year, my sister suggested I should take some shots of them and post them on Instagram. Originally I would set the figures up in front of a still image of the films on my TV and take a shot, I've since moved on to compositing, for the most part to get greater freedom over the kind of images I produce.
What's your creative process? How do you come up with new layouts or scenes? Do you shoot one setup from multiple angles?
CJ: I've been a Star Wars fan since I saw the original back in '77. Although I sometimes try and recreate parts of the films, I like drawing on my imagination to guess what might have happened in between the scenes or depict original scenarios with the characters that still feel like the movies! I try and capture the spirit of Star wars but also the fun I used to have playing with my toys as a kid, creating my own adventures!
I tend to come up with the idea and then work on it in my head. Once I have the idea and the angle I'd like to shoot from, I draw a rough concept sketch. I lay it out a lot like a panel from a storyboard or comic book.
What's your technical process? One fan commented that he did a double take: are these photos or composites with Photoshopping?
CJ: Once I know what I want to shoot, I work on posing the figures, trying to create body language, usually a balance of natural and dynamic. Then I shoot the elements I want to put in the picture. I shoot them together and separately with multiple focus points using the camera on my cell phone using natural light. I then composite them onto a background I construct using elements of stills from the films and some digital painting. This and any special effects are performed in Photoshop.
Which works are your personal favorite? Which ones have been most popular on Instagram or elsewhere?
CJ: To date the most well received images have been of Boba Fett! You know better than I do the magnetic appeal this character has for people! I've really enjoyed creating shots with the new Black Series 6-inch version of the bounty hunter…. it's such seriously cool figure and the matte plastic makes it very nice to photograph!
I'm reminded of Cedric Delsaux's series called Dark Lens, where he photographed Star Wars characters in underground Paris, which led to a hard cover coffee table book. They also seem ripe for formal prints, as some artists do via Etsy and other platforms. What's on the horizon for this series, both online and — perhaps — offline?
CJ: I guess it's the dream of every fan to want to put their Star Wars brain to work for the franchise and I'm no different! I've yet to take a commercial approach with it, but I am more than open to offers of any kind! The thought of seeing these shots collected in a book is too awesome for words!
###