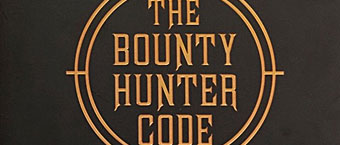 The Bounty Hunter Code -- first released in 2013 as a box set and now as an individual (and less expensive) book -- is the focal point of author Daniel Wallace's signing event.
The author will be in Eden Prairie, Minnesota this Sunday, August 17 at the Barnes and Noble store at Eden Prairie Center (3000 Eden Prairie Center, Eden Prairie, MN 55344). The event begins at 3pm.
Wallace included the following on his Tumblr:
I'll be talking and answering questions about Star Wars plus signing copies of the new book. Costumed characters from the 501st Legion will be there too.
Here's a summary of just the Bounty Hunter Code book:
Legendary bounty hunter Boba Fett bound together two volumes of great personal significance: an edition of The Bounty Hunter's Guild Handbook, and a recruiting booklet issued by Death Watch, a secretive splinter group of Mandalorians. Together, these volumes make up The Bounty Hunter Code, detailing the skills needed to make a living beyond galactic law as well as the little-known history, philosophy, and gear of Death Watch. With notes from the books' former owners, this collection serves as a crucial guide to the bounty hunter's essential tools and techniques.
Sounds like a great event. If you're able to make it, be sure to tell him the Boba Fett Fan Club sent 'ya!