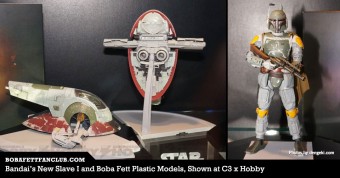 [UPDATE 8/23: According to Dengeki.net, who has photos of the labels, Slave I will go for 4,104 Yen. Boba Fett will be out September 30 for 2,916 Yen. Figsoku.net also has some pictures that include the box art.]
Announced on Bandai's official Hobby site, their new Boba Fett and Slave I models — shown below in complete form — will be unveiled at an event called Kyarahobi 2015 C3 ?– HOBBY, which is this coming August 22nd and 23rd at the Makuhari Messe International Exhibition Hall. Advance tickets can be found at Chara-Hobby.com.
We last saw the Boba Fett in an earlier draft. Spotted back on June 12th, Bandai's new Boba Fett was shown at the 2015 International Tokyo Toy Show. The 6″, 1/12 scale figure is unpainted, but the plaque (which has an unfortunate typo) and its photo suggest "Empire" colors. Photo credit unknown.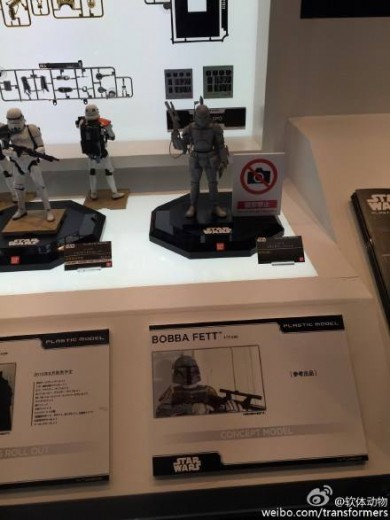 According to The Fwoosh, "Fett is scheduled to drop in September and the price should be right in line with the Sandtrooper. About $17 before shipping."
Helmet nod to The Fwoosh for their additional info and heads up on both stories.