[youtube]http://www.youtube.com/watch?v=UwHfdDo2Bt8[/youtube]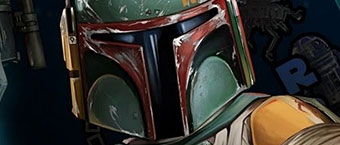 Coming out very soon for multiple console and mobile devices is the first batch of official Star Wars pinball games, one of which is all about Boba Fett. Produced by Zen Studios, here's the scoop:
The Boba Fett pinball table features fast-paced pinball action, and focuses on several major moments in Boba Fett's bounty hunting career as he takes on jobs from two clients: the Galactic Empire and the Hutts. The table would not be complete without a Han Solo in Carbonite spinner and Sarlacc Pit!

Assist Boba Fett in completing two sets of bounties, or table missions, in an effort to gain RESPECT and secure his spot as the most badass bounty hunter in the galaxy. To activate the Galactic Empire bounties, spell out the word EMPIRE by shooting the middle-left orbit. Activate the HUTTS bounties by shooting the sinkhole under the seesaw ramp. Just watch out for the Sarlacc pit!
Polygon had a great write-up, citing the rewrite of Boba Fett canon:
The Boba Fett table, one of three included in the Star Wars Pinball DLC for Zen Pinball 2 and Pinball FX 2, has all the bells and whistles of a real-world table. It also has a few unique interactive elements that are really only possible in a video game; a side-scrolling segment featuring Fett's ship, Slave I, and a "Sharp Shooting" sequence starring Boba himself. There's also an apparent fight between Boba Fett and Darth Vader; something we don't really remember from the films.
Here is the release schedule according to the official site for the game from Zen Studios and LucasArts:
Star Wars Pinball will release as DLC for the following platforms and dates:

Pinball FX2™ on Xbox LIVE® Arcade – February 27th for 800 MSP
Zen Pinball 2™ on PlayStation®Network for PlayStation 3 & PlayStation Vita with Cross Buy entitlement! Purchase once and play on both systems – February 26th in North America for $9.99, February 27th in Europe for €9.99.
Zen Pinball 2 on the Mac®App Store – February 27th for $2.99/table
Zen Pinball on the Apple®App Store – February 27th for $1.99/table
Zen Pinball HD Google Play™ – February 27th for $1.99/table

Star Wars Pinball will release as a standalone application on the following platforms:

Star Wars Pinball for the Apple®App Store
Star Wars Pinball for Google Play™

Additional platforms will be announced at a later date.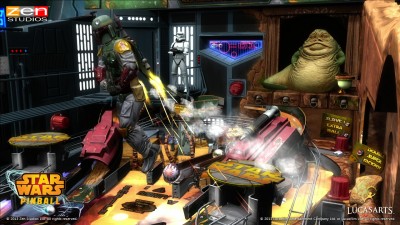 Check out some screenshots that we've uploaded in our image galleries.