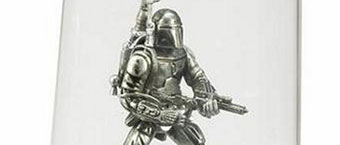 Send in your photos, if you can snap a shot of the Hasbro booth's new Titanium Series Boba Fett, the first figure in the "Forged Figure" line.
Set for a Spring release at $15, this figure is first previewed today at the San Diego Comic Con.
Also, Wal-Mart is re-issuing old figures through an exclusive deal for $20: a five-pack vehicle set, also part of the Titanium Series. Slave 1 comes with an ARC-170 Fighter, a TIE Bomber, Red 3 X-Wing Fighter, and a Swamp Speeder. This Slave 1 figure is already available individually, and can be seen on the Hasbro web site:
Slave I is a highly modified ship used by the mysterious bounty hunter Boba Fett. The battle-worn vessel is heavily armed and has sophisticated equipment that prevents fugitives from detecting its presence.

Launch into action with one of the coolest vehicles in any galaxy… near or far, far away! This bounty hunter's ship features movable wings and pivoting guns that place you right in the middle of the greatest space story ever told!

* Intricately detailed metal Star Wars ship with moving action features!
* Comes with display stand.