Penny Skateboards recently gave BFFC one of their new Boba Fett boards to try out. The Star Wars specific design of the board is beautiful. The watercolor Fett artwork on the deck is very well done, and the clear yellow wheels with "Boba Fett" embossed on them are a really nice touch. Even the box it comes in looks nice enough that I didn't want to recycle it. The board would look great just hanging on a wall, but it's made to ride. So how does it perform?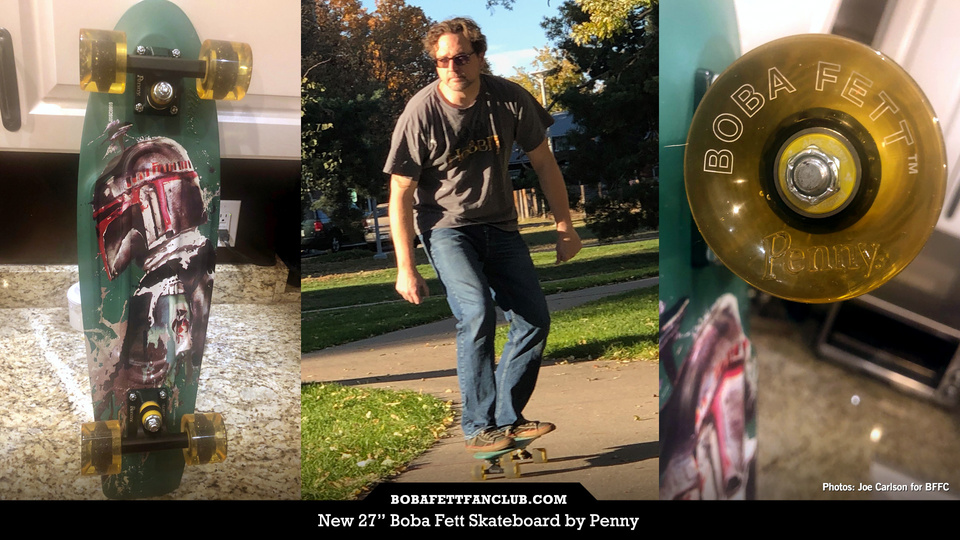 Made in their 27 inch form factor (about 69 cm), it's just the right size for getting you where you need to go followed by sticking in a backpack, throwing in a locker, or even tossing in a plane's overhead bin. The build quality is surprisingly high for a skateboard that costs around $100. The plastic deck and aluminum trucks keep it very light, while the soft, wide wheels provide a smooth ride with plenty of grip on almost any surface. The waffle tread print on the deck surface provides enough grip when dry, but if its wet a little grip tape would help. The bushings are very responsive but still firm enough to be stable at speed. The bearings are very smooth and are capable of decent speed without any noise. The tail has a nice angle for good control. After about 15 minutes on the board I really found my groove and wanted to take it with me to a lot more places.
The new line of Star Wars boards are available globally this month. In the US the boards are now available in specialty retail stores and online at pennyskateboards.com on October 15. In addition to Boba Fett, other designs in the line include Darth Vader, R2-D2, and an imperial stormtrooper. The Darth Vader and Boba Fett models are available in both 22" and 27" shapes. The R2-D2 themed board are available in the 22" and the Stormtrooper themed model is in the 27" shape.
Penny has already carved out a nice niche for themselves over the last 8 years with their quality, comfort, value, and style. By adding the Star Wars brand to their stable of boards they've just made that niche a bit bigger.