[Update for 2023: Besides the starwars.com URL change, for an updated list of variant uses since the start in June 2021, see our list.]
It certainly looks and sounds like it. Seemingly out of the blue, Boba Fett's ship is getting a new name on at least five officially licensed products right now: "Boba Fett's Starship" on three (and the official Star Wars website, in part) plus "Boba Fett's Starfighter" on two others. Bring in some quotes from licensees and it looks like a done deal. [Tally updated on July 14.]
Long-time fans have called it — and still will call it — Slave I for over 40 years, but now the newly revealed LEGO product coming in August and a Topps digital trading card is labeled "Boba Fett's Starship;" and a re-issued MPC model of the ship is calling "Boba Fett's Starfighter." Both full names appear to be trademarked. It's unclear if either "starship" or "starfighter" will be consistent names or renames for Slave I moving forward.
Held from publishing until the LEGO product was officially announced, Jedi News and BrickSet interviewed LEGO from LEGO Fan Media Days last month, where this happened:
LEGO Star Wars Lead Designer Michael Lee Stockwell: "We're not calling it Slave I any more. This is Boba Fett's Starship."
LEGO Star Wars Design Director Jens Kronvold Frederiksen: "Everybody is [dropping the Slave I name]. It's probably not something which has been announced publicly but it is just something that Disney doesn't want to use any more." (Emphasis added.)
That's not all. For more on the second situation so far, in a video shared with us by BFFC fan TheNormtrooper (Twitter), Jamie Hood of Round 2 was at WonderFest USA on June 6 where they had a booth and carry official Star Wars products by MPC. In their video at 14 minutes 20 seconds in, you can clearly hear the lowdown on MPC with the following quote: "We've got Boba Fett's Starfighter. Yes, they have renamed the ship. That was not our choice but that's what we're going to call it now." (Emphasis added.)
One more also came in, which is not toy related: Topps. Their digital trading card now shows Slave I with the caption "Boba Fett's Starship." The digital card via Star Wars Card Trader mobile app was released "about a month ago," notes BFFC fan FenrisUlfrSR (Twitter). Past cards all have the original name. Nothing seems retroactively changed, despite being digital cards in the cloud. The change can be tracked back to April 28, 2021 when it first appeared.
Our friends at Yakface also noticed GameStop is using "Boba Fett's Starship" (with the trademark symbol in a different spot) on some signage, adjacent to "Slave I," already on the box of an existing product.
That's not all. The official Star Wars site redirects visitors from https://starwars.com/databank/slave-i (heavily used from 2014 until April 2021) to https://starwars.com/databank/boba-fetts-starship (new as of April 2021 according to archive dot org). Note the URLs: "slave-i" to "boba-fetts-starship." Nothing else seems to be changed on the page itself and also not a toy. Update: actually, the copywriting changed quite a bit. It used to name check Slave I copiously in the description. Now only the page title remains.
Old: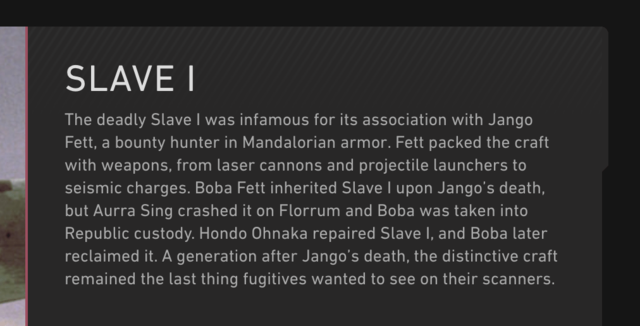 New: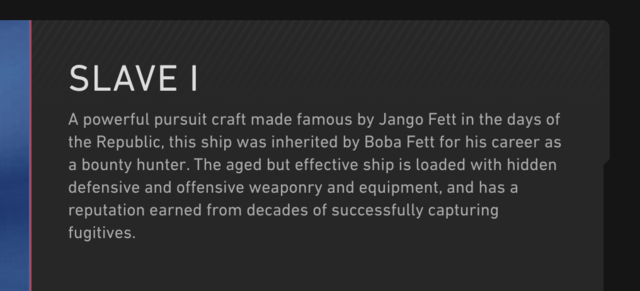 Another update to this article on July 6: the new "Star Wars Ships and Vehicles" book released in Spain says "Boba Fett's Starfighter" on the front. This highlights the second variant name they're using – it's not just "Starship." Thanks to bibliotecaJedi (Twitter) for the heads up.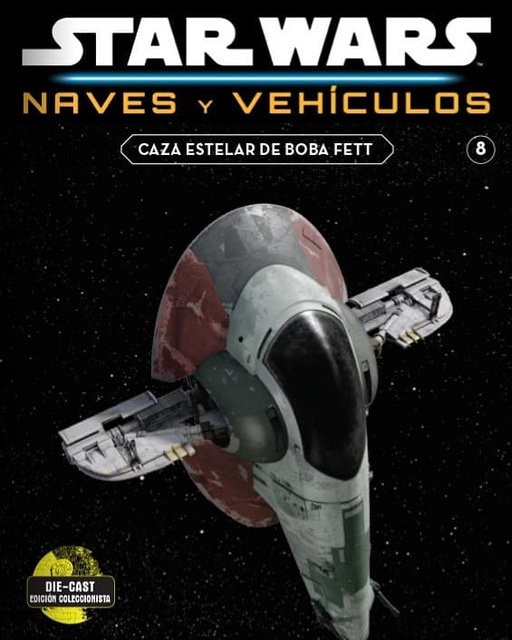 July 14 update: Hot Toys has revealed a new Boba Fett figure which comes with a Slave I hologram … that is, they're calling it "Boba Fett's Star Ship." You can see for yourself in their post on Facebook in the text.
November 20 update: merchandise mentions have reached 10 items now. See our list for the most up-to-date version. At some point, we'll stop listing them all, but the bottom line here is it's definitely not just the LEGO set.
In fact, here's how Adidas is even using it and they don't even have a related product — just Fett inspired merch in their "Legacy of Boba Fett" campaign.

Past Usage
While the ship's name was never spoken aloud in a film, it was spoken twice in "The Clone Wars" animated series on television: "R2 Come Home" (Season 2 Episode 21) and "Lethal Trackdown" (Season 2 Episode 22). It's also been on toys and in print since 1980. Even the vintage toy said "Slave I, Boba Fett's Spaceship."
Marketing Purposes?
One possible explanation for this all could be marketing. With such a huge influx of fans thanks to "The Mandalorian" and teaser for "The Book of Boba Fett," is it easier to sell toys to people of all ages if "slave" isn't in the name, including typing into search engines? Sure.
Story Purposes?
Another possibility could be related to Boba's transformation in "The Mandalorian." Maybe the new name is like his new coat of paint. The new LEGO set is specifically "The Mandalorian" themed, although it's unclear if the MPC model is "The Empire Strikes Back" or not. (The ship doesn't appear much different between the two, if at all.)
Equitable Purposes?
A third possibility seems akin to "Huttslayer," the relatively new name to describe Leia when she was kept Jabba's dancer. Up until 2015, her nickname for that section of the story was "Slave Leia." But going back to the original call sheets in the 80s, according to Fantha Tracks, she was a slave to Jabba. That was part of the story and certainly meaningful when she overcomes Jabba. Here in 2021, many non-Star Wars brands have been turning to be more equitable if there's anything controversial about it at all.
Related, as pointed out by BFFC fan Han_Spinel, Disney recently created the Stories Matter advisory board and this change could be related.
Fan Reactions
All in all, "Starship" and/or "Starfighter" are completely forgettable and meaningless names. There was little to no public outrage over the "slave" part of the name, although that's no excuse here in 2021. This is a big missed opportunity to trade in a memorable name — Slave I, sometimes written as Slave One or Slave 1 — and instead go super generic. They could have went with "Boba Fett's Firespray-31" for example.
When we discussed the news yesterday with BFFC fans on our social channels, scifi_fan_kat (Twitter) had some good input on the history behind the name developed in "legends" lore: "I can understand why they would, but if people knew the lore, they would understand why it was named that. Jango had been enslaved after his clan was massacred at the Battle of Galidraan, and named the ship that after he'd escaped slavery."
BFFC contributor BestOfFett (Twitter) has more to say about the name: "Also, 'slave' is terminology referring to being able to control the ship remotely. Which Fett has done on occasion. Just doesn't make sense [in my opinion]."
Another BFFC fan, ImDannyG (Twitter), added another sentiment many others feel: "This wasn't even an issue that people complained about y'know? It really is unnecessary, embarrassing, and honestly it's pretty disrespectful to the character's history. Such weird times."
Well, at least we're getting "The Book of Boba Fett" and Boba Fett survived the Sarlacc, right?
But what's your take on the name of his ship? Does the name make a difference to you? Should it be one way or the other? Let us know in the comments.
(This article was updated since the original time of publication to include the two name checks in "The Clone Wars" episodes, the "Stories Matter" advisory board, the Topps digital trading card with date, the starwars.com URL change, the starwars.com copywriting change, and the Spain book.)