Here's our ninth annual Black Friday / Cyber Monday sale breakdown, focusing on Boba Fett and friends.
Shopping for yourself or a friend/fan/lover? This round-up can help. We also have a separate holiday guide and holiday ornaments list.
Updated: Amazon, Zavvi, YukiPri, and Beeline Creative added 11/25. Sideshow Collectibles added 11/24. Entertainment Earth added 11/23.
Toys and Figures
Amazon has Black Friday deals on the Hasbro "Retro Collection" Boba Fett (Morak) figure (45% off), Hallmark "The Book of Boba Fett" Christmas Ornament (38% off), LEGO Boba Fett Youth Double Compartment Lunch Box, Fetch for Pets Boba Fett Harness (20% off), and more.
Update: they have the new "Mandalorian" edition of Star Wars UNO card game on sale for $7.49, featuring Boba Fett, Cobb Vanth, and more.
Entertainment Earth has the Hasbro Black Series Boba Fett helmet on sale for $114.49. The Hasbro "Throne Room" Boba Fett figure is also on sale for $21.49. They also have up to 90% off other merchandise online. Free U.S. shipping.
Gentle Giant is doing multiple discounts on in-stock items between November 25 at 12:01am Eastern until November 28 at 11:59pm Eastern, including $15 off Jumbo Figures, $20 off Mini Busts & Animated Mini Busts, $30 off Legends in 3-Dimensions Busts, and $40 off Milestones & Premier Collection Statues. This includes their "The Mandalorian" and "The Empire Strikes Back" Legends in 3-Dimensions Bust Boba Fett busts, plus their Milestones Statue Boba Fett and Jango Fett Classic Bust.
LEGO is expected to have 40% off select sets between November 25 and November 28. It's unclear if their Razor Crest (which includes Boba Fett armor in the cargo hold) will be included or not.
Denuo Novo (NECA) is doing 10% off everything plus free domestic shipping and 50% off international shipping, including their Jango Fett helmet.
shopDisney has up to 40% off select Star Wars merchandise from Black Friday through Cyber Monday, although some items are on sale already, like their talking Boba Fett figure is $8 off.
Sideshow Collectibles has up to 50% off on over 100 collectibles on their site, including the Beast Kingdom Boba Fett for 35% off. They're also doing buy one get one 50% off on select items. See their Fett inventory for select sales.
Print
Acme Archives has a sale starting now through November 28 at 11:59pm Pacific. Use code GIFT25 for 25% off online.
Displate will be doing up to 41% off metal prints which include several Boba Fett designs.
FanWraps takes 20% off on Black Friday when you use code BLACKFRIDAY20. They have multiple Boba Fett designs.
Trends has a buy one get one 50% off sale for "cyber week." Several Boba Fett designs available.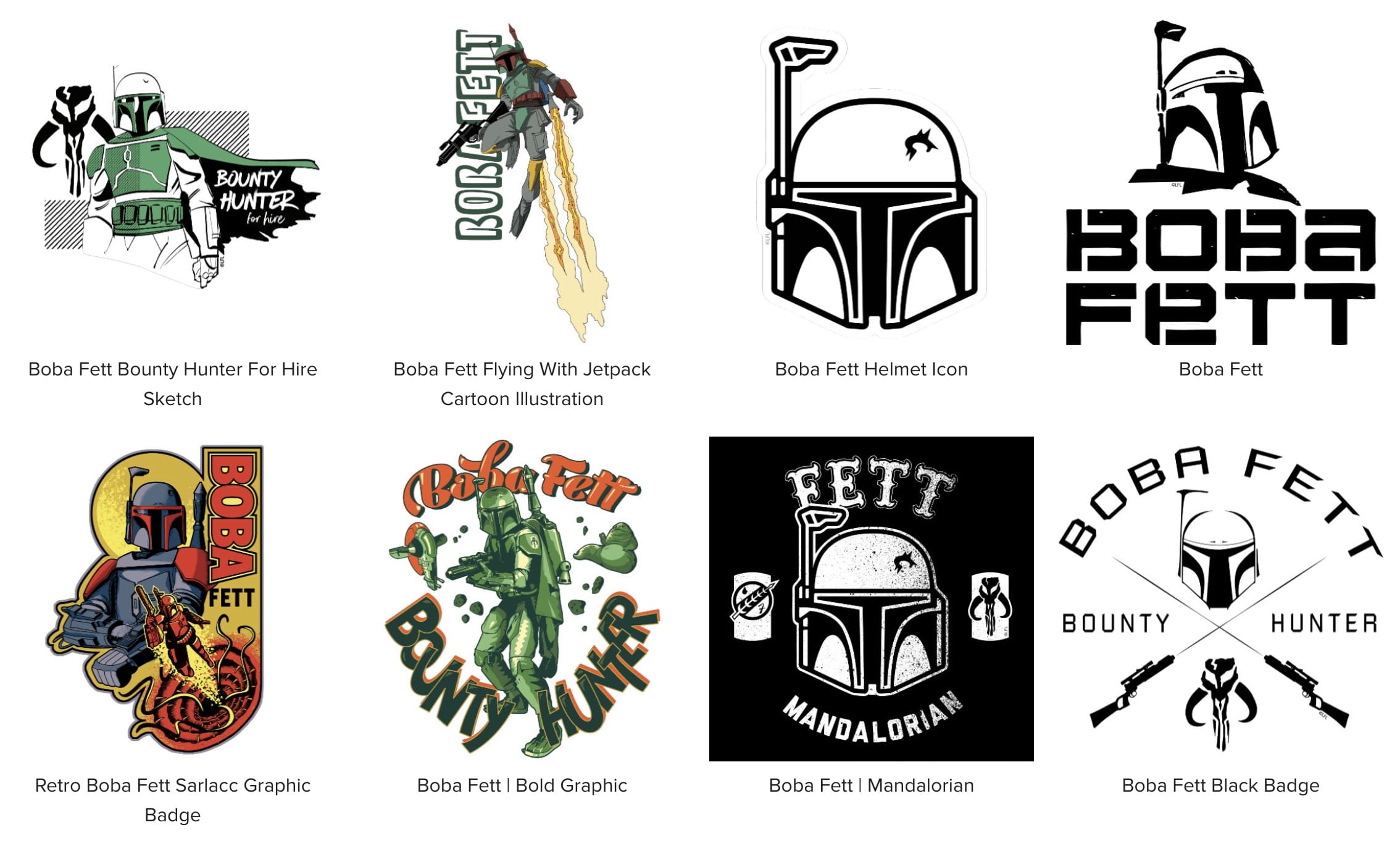 Zazzle has 50% off with code ZBLACKFRIYAY. Countless variants of print-on-demand designs, several of which are unique to their platform.
Fan artist YukiPri has prints on sale for Black Friday, including several Boba Fett inspires pieces on INPRNT.
Apparel and Accessories
BoxLunch will be doing 30% off select styles and up to 50% off holiday doorbusters, which may include their Boba Fett merchandise.
Enso Rings has a sale going right now with at least $10 off their Book of Boba Fett Collection rings, or over $50 off the full collection.
Buckle-Down Inc. has 30% off Black Friday through Cyber Monday on select accessories, which should include their Boba Fett belts, wallets, fanny pack, dog squeaker, and dog leashes. Some of these designs previously appeared at other stores.
Citizen has their two most recent Boba Fett watches on sale — over $100 off for each one.
Cufflinks has two sales: 20% off Star Wars items between November 21 and 27, and then 25% off between November 28 and 30, which includes their Boba Fett ties, socks, and cufflink.
Diff Eyewear is doing a massive 50% off between Black Friday and Cyber Monday, which includes their Boba Fett 2.0 glasses and Fennec Shand glasses. It's also on sale for $60 on Amazon.
FiGPiN has a 40% off sale, which includes their two in-stock Boba Fett pins (#734 and #861), plus Fennec Shand (#860). The discount shows up at checkout. (The StarWars.com article saying 50% off is incorrect.)
Girls Crew is doing up to 30% off select styles from now or maybe Black Friday through November 29. It may or may not include their Boba Fett necklace or Empire stud set.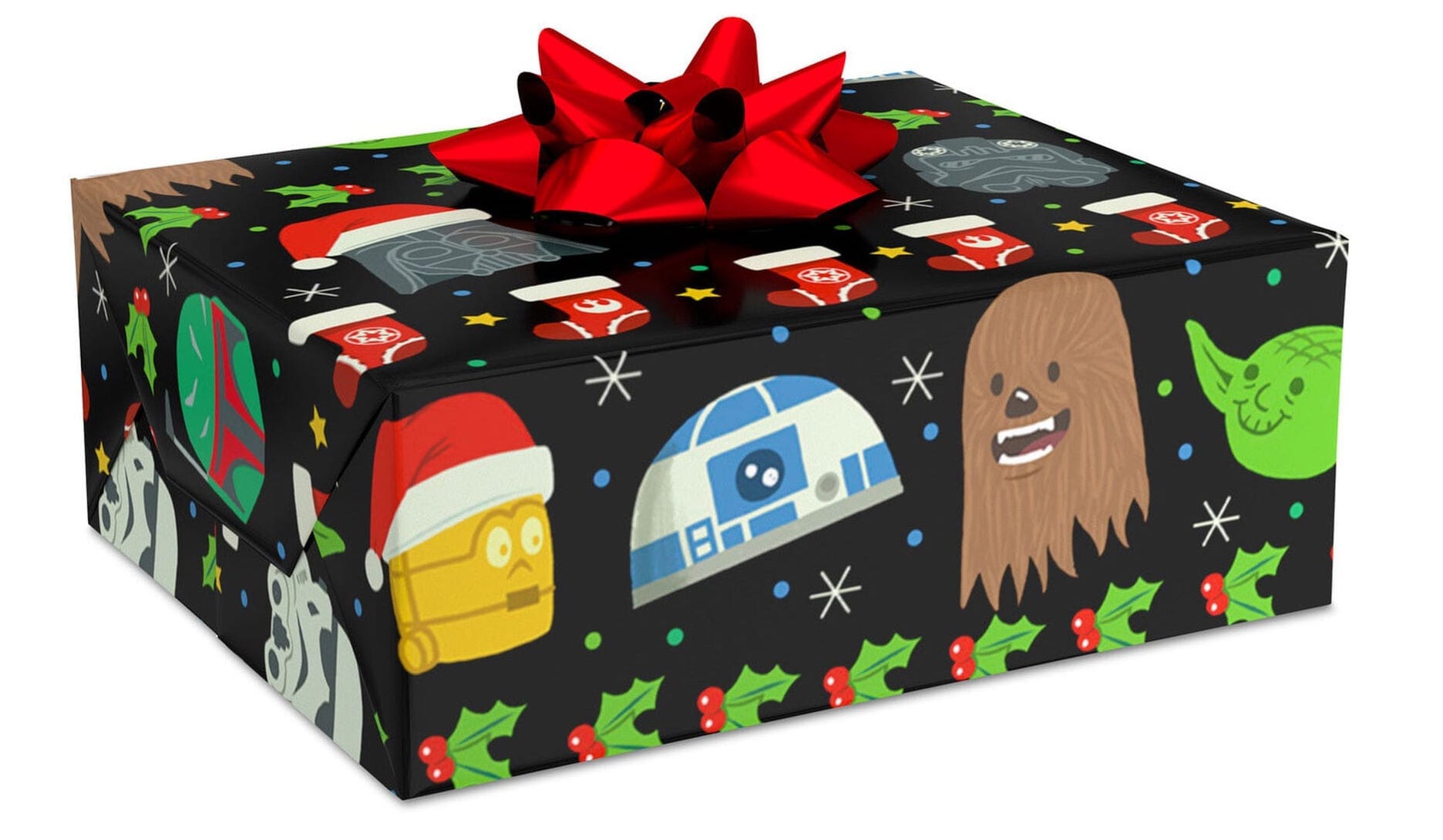 Hallmark has sales on their Boba Fett socks, Boba Fett water bottle (20% off), and itty bittys "The Book of Boba Fett" Boba Fett plush (20% off), as well as other Star Wars merch including ornaments like the Millennium Falcon and Razor Crest. They also have buy one get one 50% off which includes their Star Wars Faces wrapping paper (see hallmark.com), which sports Boba Fett's helmet.
Her Universe has 20-50% off right now which includes their Boba Fett retro tee, Boba Fett long-sleeve button-up, Boba Fett hats, Boba Fett mini backpack, and much more.
Heroes & Villains has a sale up to 50% off from November 17 to November 27 that includes their Boba Fett shirts, Boba Fett hats, Boba Fett wallet, and Boba Fett backpacks.
Hot Topic has 20% to 50% off select Star Wars merch which includes Boba Fett pins, magnets, shirt, sandals, sweatshirts, cups, and more.
Invicta is doing flash sales and warehouse blowout sales, which include many of their Boba Fett watch designs ranging from crazy low prices to heavily discounted prices.
Lokai is doing 50% off their bracelets, which includes the Boba Fett design.
Loungefly, which is still selling their NYCC exclusive Boba Fett bag and wallet, says it'll have 70% off according to StarWars.com but it doesn't appear yet on their site.
Love Your Melon will take 20% off right now, including their Boba Fett hat.
Rock 'Em Socks has multiple sales beginning November 24th, which should include their Boba Fett socks. 50% off from 9PM-9:03PM Eastern with code 50NOV, 40% off from 9:03PM-9:15PM Eastern with code 40NOV, 30% off from 9:15PM-10PM Eastern with code: 30NOV, and 20% off through Friday with code 20NOV.
RockLove Jewelry will have 30% off on Cyber Monday only, which should include their Boba Fett medallion and ring.
Star Wars Fine Jewelry is expected to have 20% off from Black Friday to Cyber Monday, which should include their Boba Fett merchandise.
Other
Corkcicle has their Boba Fett canteen, coffee mug, and tumbler all on sale for $9 or more off.
American Tourister has their 20″ Boba Fett luggage for 25% off.
HugBuddy has their Boba Fett cell-phone holder supposedly for up to 30% off (according to StarWars.com) but not seeing it. They do have a buy two get free shipping sale though until November 28, which can includes their other Star Wars designs too.
New Zealand Mint will take 20% off select coins between November 25 and November 29, which may include their new Boba Fett coins.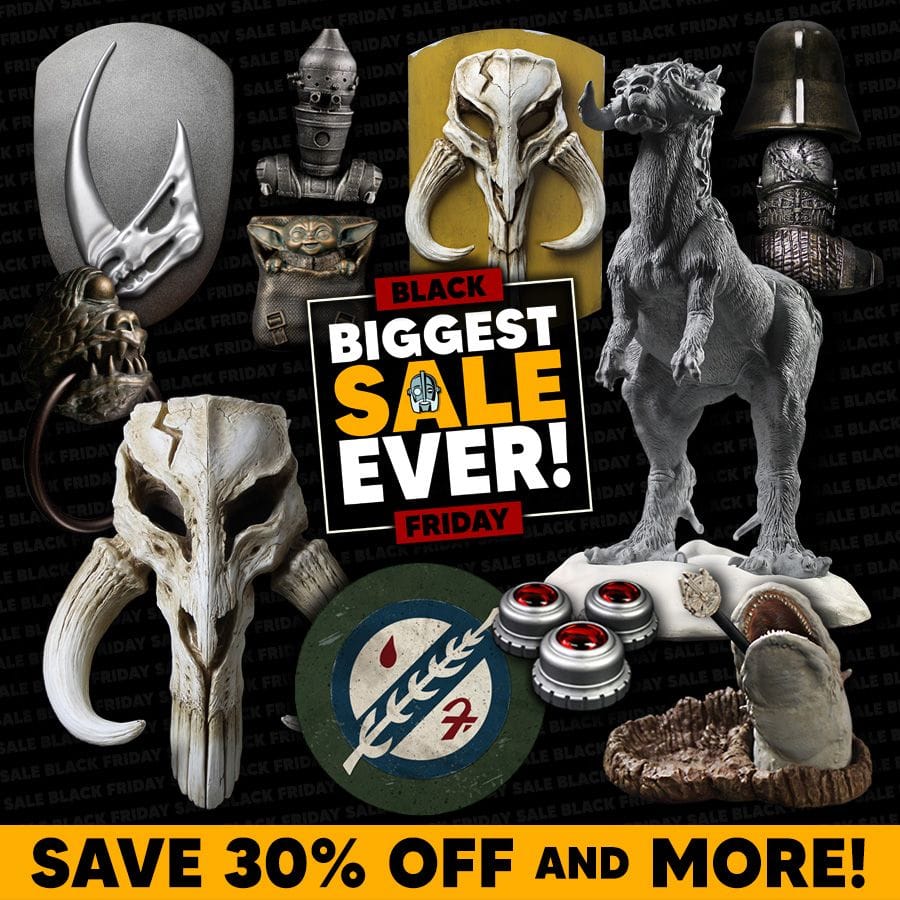 Regal Robot will be having their biggest sale ever starting Thursday November 24 at 9am Eastern and going through November 28 at 11:59pm Pacific. Once it's time, use a code that they'll share on their page to get 30% off. They have several Star Wars and Boba Fett items. (Tip: if you join their email list, they have a special coupon one day early!)
Ruggable has 20% off all Star Wars rugs and doormats between November 23 and November 30. Boba Fett appears on several designs.
Simple Modern supposedly has up to 30% off their tumblers, but not seeing that on the StarWars.com link. It's currently at cost on their Amazon page.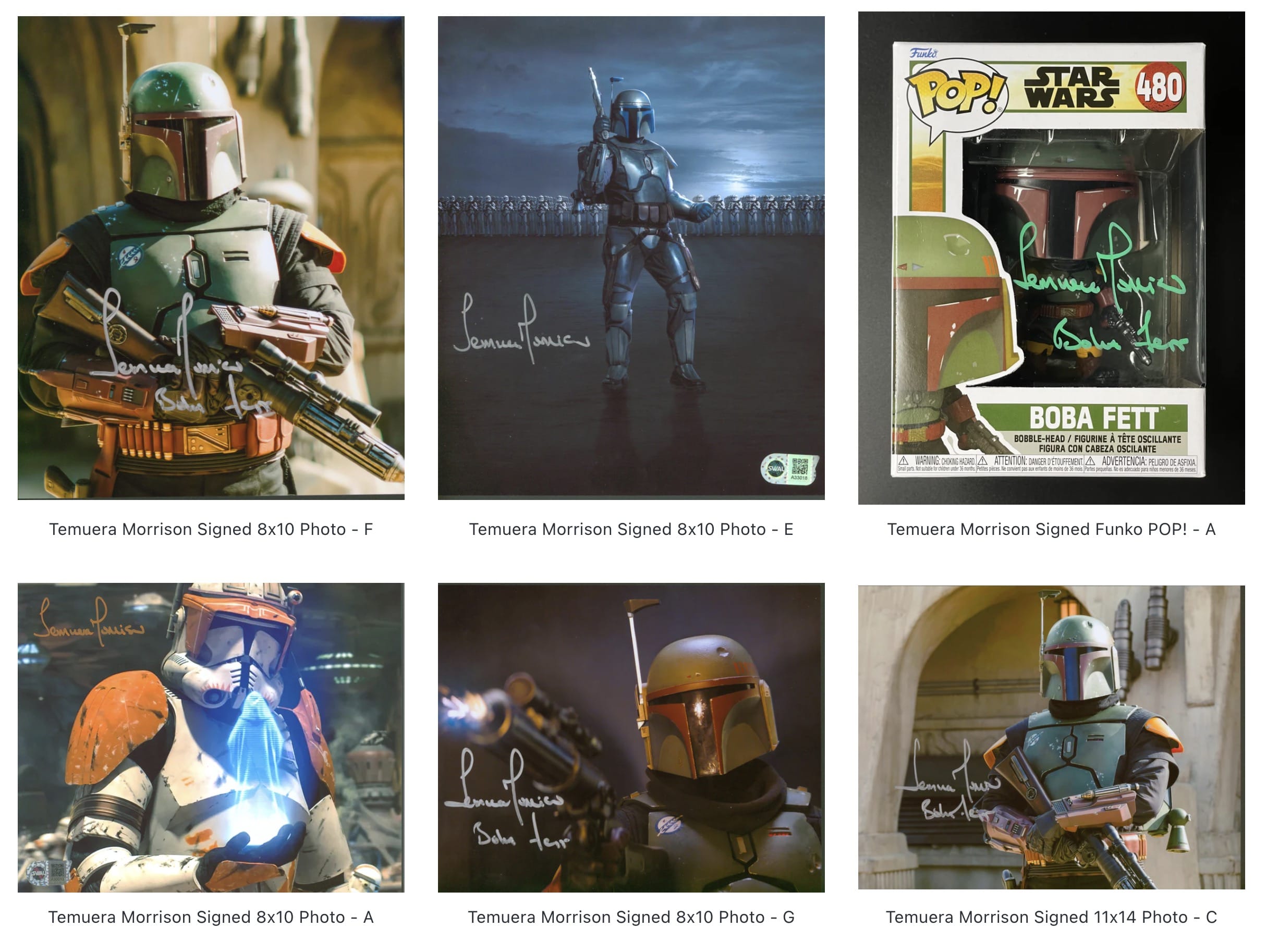 SWAU, which arranges celebrity autographs, has a 10% off sale on Black Friday through Cyber Monday. Keyword search for "Temuera" to see a lot of his autographs available.
Tervis has 30% off their tumblers between November 24 and November 28, although several Star Wars items are already 30% off as of November 22.
More
Beeline Creative, who makes the Geeki Tiki mugs, is doing 25% off with code TIKI25 at checkout. Boba Fett is included in their "Mystery Muglet Series 2," which is blind bag style… so no guarantee you'll get Boba. (Back in 2020, he was sold individually, but that's no longer an option apparently.) He's also in the Empire Swizzles 6-Pack set, which is not blind bag style — thank goodness.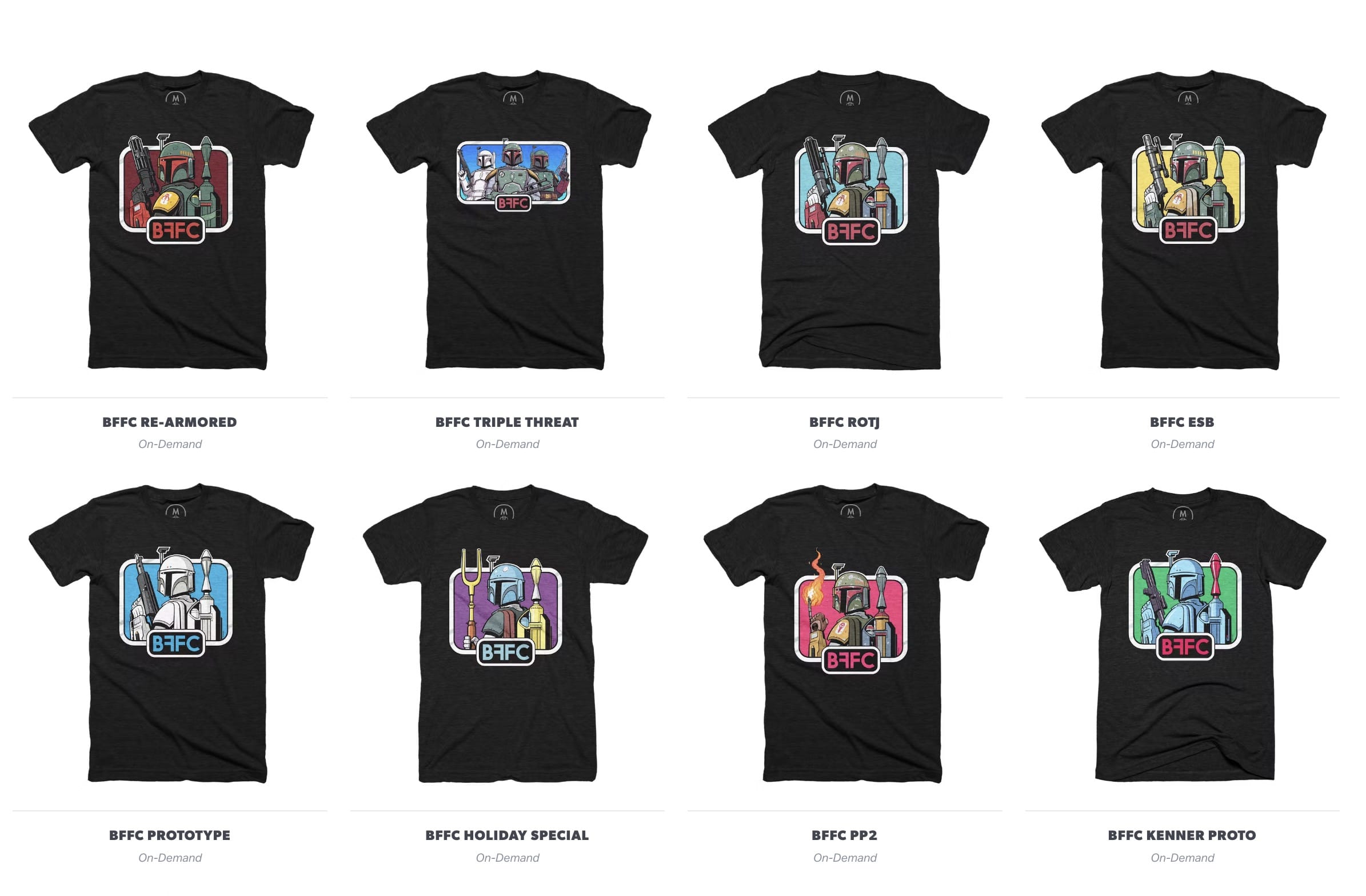 Cotton Bureau, where we have our BFFC designs for charity (learn more), is doing free shipping on orders over $9 with code FREE99 at checkout. Ends November 22 at 11:59pm Eastern. For Black Friday through Cyber Monday, use code DENADA at checkout to receive free shipping on all domestic orders over $79.
Zavvi has a killer deal on the LEGO Millennium Falcon. It's $170 off retail with code BFFALCON at checkout. Perfect whether or not you have the similarly massive LEGO "UCS" Slave I.
StarWars.com (who gathered up a lot but not all of the info) has a few more that we skipped for just having non-Boba Fett merch.
Are we missing something cool? Let us know in the comments.