Hard to believe BFFC has turned 25, but what a year to hit a quarter century. Boba Fett fandom is larger than ever, with no signs of slowing down.
Anniversary Designs
Continuing the tradition of raising money for charity while giving BFFC fans something to enjoy offline, we have two new anniversary designs: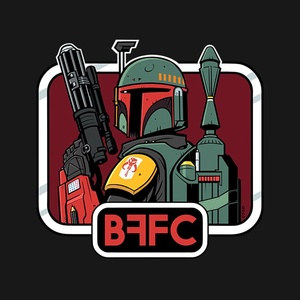 "Re-Armored"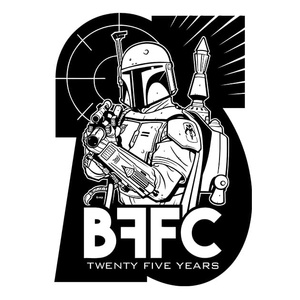 "25 Years"
Art for BFFC by Jason Goad. (The second one was updated and inspired by a 14killstripes photo by BFFC's founder, Aaron Proctor.)
In honor of the late Jeremy Bulloch, our inaugural member, we are donating all proceeds to the Great Ormond Street Hospital and Children's Charity.
To contribute with a purchase: https://bobafett.club/bffcshop
To donate directly: https://donate.gosh.org
Long Lasting
There are just a few other Star Wars sites from 25 years ago (or longer) that are still around… but here's a thread to name check a few peers that have kept going strong.
Before TheForce.net, it was "Texas A&M University's Star Wars Page." They got started in 1996 just like BFFC. Their news and community was admirable. Under new management, but still there.
Before RebelScum.net, it was "Philip's Star Wars Pictures, Toys and Thoughts." Same founder, although they're about to pass the torch. They also started in 1996 like BFFC. Their collectibles database and original photography was an inspiration.
Star Wars Collectors Archive began in 1994 – they've got us beat by a couple year – but were an inspiration when first getting started. Love that they're still going strong, often hosting panels at conventions.
Reaction
AOTC / TCW Boba Fett actor Daniel Logan congratulated us on Twitter and SW:SE Boba Fett actor Mark Austin as well on Instagram!
So many shout-outs, but helmet nod especially to websites Fantha Tracks, BobaFettBuilders.com, and WhiteBobaFett.com; artist Joe Corroney; cosplayers Miggs Fett, Man of War Studios, and The Lady Fett; and fans like Captain Crazy and broughtworm.
The Year in Review
We've seen massive growth thanks to Boba Fett's return in "The Mandalorian" and announcement to lead "The Book of Boba Fett." News announcements and official collectible releases seem non-stop. We've done official collaborations with GameStop (#1, #2), Loungefly (#3), and Polaroid #4). On social media, our posts have been shared by Ming-Na Wen (twice) and Carl Weathers. We signal boosted a social ad by Temuera Morrison for Polynesian Spa in New Zealand, which led to dozens of memes.
Our team of regular contributors like Juan Fuentes (started in 2020 but really active nowadays), Thorsten Heiss (long-time contributor, so busy in the Collectibles section here making it better), and The IronWolf (started in 2019 but hit a stride when "The Mandalorian" Season 2 brought back Boba) has been awesome to help grow and specialize BFFC.
We've helped fans navigate the complex "War of the Bounty Hunters" series, which has presented itself with dozens of variant covers that some collectors look to us to know where to get them.
We also worked with the Star Wars Insider (Titan Publishing), Herschel Supply Co., and Monogram with early bird view and after-release reviews, respectively.
No plans to stop: here's to the next 25!