Jeremy Bulloch, the original Boba Fett actor (and inaugural BFFC member), passed away in 2020 from complications relating to Parkinson's. In what appears to be a portion of his collection of Boba Fett items over the years, you'll have a chance starting on May 4th to bid via East Bristol Auctions Ltd.
Since the auction house is U.K. based, they're beginning May 4th at 12:00pm BST, which is 4:00am Pacific / 7:00am Eastern.
First noted in The Guardian, plus in our own observations from the video by SWNS, some of the more than 1,000 individual items include:
Don Post life-size statue, which he modeled for in the mid-1990s
Picture from Carrie Fisher to Bulloch with this note: "Jeremy – thanks for the nite of hot monkey love"
Japan Tour Jeremy Bulloch action figure
Hasbro Electronic Boba Fett helmet (early version with extra large T-visor)
Various signs with Jeremy Bulloch's name, from events like signings with OfficialPix
Much, much more
Maureen Bulloch and her two children also had this to add: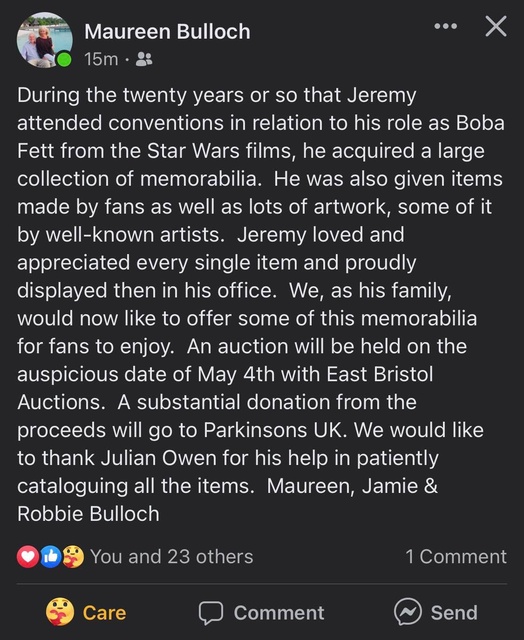 Part of the proceeds from the auction will go to Parkinsons U.K.