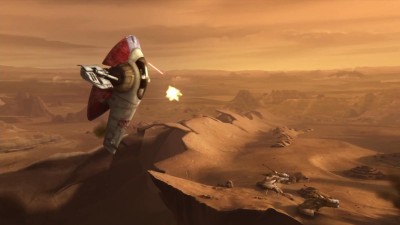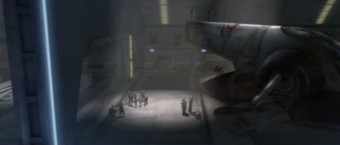 Slave I made an appearance in the latest episode of "The Clone Wars" animated series, "A Necessary Bond" (Season 5 Episode 9).
Here's how IGN reviewed the scene:
What a cool moment it was when Slave-1 was revealed! It makes total sense of course, given the ship was last seen going down in a big explosion on Florrum in Season 2's "Lethal Trackdown". A natural fan assumption was to expect the next time we'd see the ship, it would be with Boba Fett himself having reclaimed it. Instead, we learn that Hondo has repaired and is in possession of the ship… something we know is not going to be the case forever, which deftly sets up a Hondo/Boba alliance and/or confrontation at some point.
BigShinyRobot speculates on what we'll see soon:
And I love that the Slave I had a part to play in all of this. It makes me confident we'll see Boba Fett on the show taking back possession of his father's ship.
User Ked12345 on TFN noted the connection to Original Trilogy colors:
Hondo & Pirates rebuilt Slave 1 from Season 2 to have the OT colors.