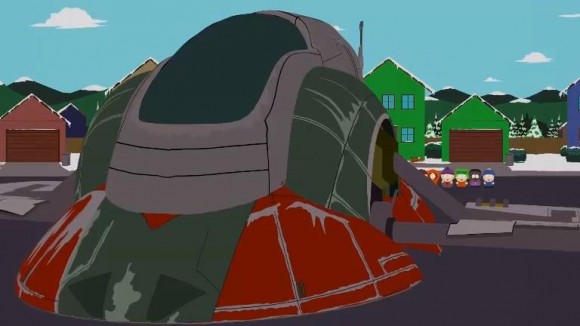 Last night's South Park episode, "Obama Wins!," featured a Boba Fett reference. Here's a summary according to IGN:
Then there were the Disney/Star Wars references, which were the icing on the cake. From the reprise of SP's Mickey Mouse — who rolled up in Slave I — to Cartman galloping in on a Tauntaun (accompanied by a baby Ewok), there were plenty of great sight gags to keep the ball rolling. I particularly enjoyed the meeting between Mickey and Cartman, a subtle nod to Vader and Luke's cordial meeting on Endor in Return of the Jedi.
At 13 minutes and 3 seconds in, Cartman starts by yelling, "There's Boba Fett's ship!"
You can watch the episode right now at southparkstudios.com. [UPDATE: As of 2019, it's now streamable on Hulu.]
Check out stills from the episode in our gallery.