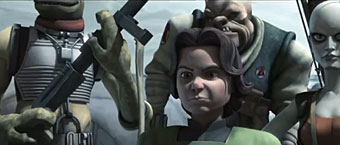 Starting at 2 minutes 27 seconds, Boba Fett begins to be mentioned in the series:
Mace Windu (voiceover): "Boba was on Geonosis when his father died. He watched as I killed him."

Anakin Skywalker (voiceover): "That would complicate things."

Mace Windu: "Indeed."
Boba Fett has appeared so far in Season 2 and Season 4 of the series. For more, visit our Fettipedia page for The Clone Wars.