Alan Harris, who wore the Prototype Boba Fett costume for some early screen tests in 1978, has passed away. He was 81 years old.
He also played Bossk in "The Empire Strikes Back" as well as a Bespin Security Guard.
Jeremy Bulloch has shared a statement on Facebook:

Fantha Tracks published an article on his legacy:
Anyone who ever met him will know what a gentleman he was. Deeply involved in the original trilogy, he wore the white Boba Fett costume in tests before playing a Rebel guard and a Rebel mechanic as well as a Stormtrooper in A New Hope, a Bespin Guard in The Empire Strikes Back as well as a Rebel Hoth trooper and a Stormtrooper on Bespin. and again as a Stormtrooper in Return of the Jedi. Star Wars trivia fans will also know that the body of Han Solo in carbonite was Alan, that he was the double for Anthony Daniels as C-3PO and had the aforementioned Boba Fett costume built around him.
They also included a statement from Alan's agent Julian Owen (Alliance Agents).
Jason Joiner of the Kurtz Joiner Archive (related to Gary Kurtz) wrote a long statement on Facebook. Here's an excerpt:
Alan was a soft spoken gentleman. I remember talking to Gary Kurtz about Alan and he remembered him from back in the day and said "you could rely on Alan 100%." The production team loved working with him. He would do anything you asked of him, without any fuss, and he did the job to the best standard you could hope for. If there were issues with filming, Alan would often work as Harrison Ford's stand in. He would just stand in the same spot for as long as they needed him to hold that scene. He was a truly dedicated, hardworking and reliable man, which is why the production office would always pick him when they could; he was one of the best background guys you could work with. This is was what Gary Kurtz, the producer, said about him so that was very high praise indeed from the head of production of Empire!

I was lucky to talk to Alan one day to invite him to his first ever event. Initially, he was not sure as he was not someone that wanted any limelight; he was happy just doing what was asked for him. However, I managed to talk him into attending his first event at the NEC. Alan turned up with his wife, Winn, who was so surprised anyone would want to see Alan or want to talk to him about his work. I set up his signing table and showed him the Bossk screen-used mask. I was so proud to have reunited them together for the first time in decades. Alan was shocked that the mask had survived!
Galactic Productions LLC shared a statement on Instagram, including this quote:
A note from Alan's colleague, Cathy Munroe: "Alan was an incredible courageous man who was loved and respected by all who knew him. He was a font of knowledge and had an amazing charisma you were just attracted to him. His legacy will live on and he will always be fondly remembered." -Cathy Munroe
Mark Austin's statement on Instagram: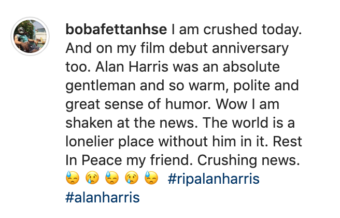 He will be missed.