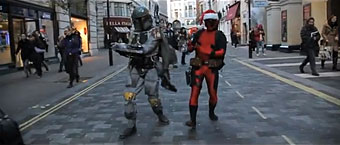 Shot in London by Sneaky Zebra and posted today on YouTube, check out this holiday video that was meant to be.
[youtube]http://www.youtube.com/watch?v=8nlHQ7J2-kc[/youtube]
In the video annotations, Gary and Nick at Sneaky Zebra send their wishes for a Merry Christmas and a Happy New Year. They wanted to give a shout out to Gosh Comics for letting them film in the store. They also give a nod to UK Cosplay on Facebook. Check out Sneaky Zebra on Twitter and Facebook. They filmed on a Canon 7D and a Flycam 5000 in various places throughout London. The video was edited with AVID Media Composer.