The Associated Press photo made the "Most E-mailed" list today at Yahoo.
Update 6/11 – Performance now showing on YouTube.
Update 6/12 – Danger mouse (half of Gnarles Barkley) spoke recently at the Hammer Museum in Los Angeles. He revealed that the costumes were originals, sent over by Lucasfilm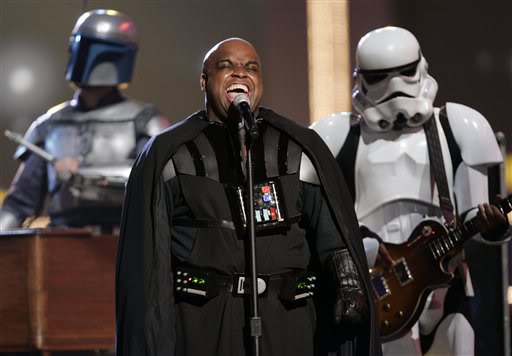 Caption: Singer Thomas 'Cee-lo' Calloway of Gnarls Barkley performs at the 2006 MTV Movie Awards in Culver City, Calif., on Saturday, June 3, 2006. (AP Photo/Chris Carlson)
Producer Danger Mouse and rap artist Cee-Lo make up Gnarls Barkley. In April, their first album, St. Elsewhere, was released and available for download on iTunes. The hit song is called "Crazy," which hit #1 in the UK, Ireland, Denmark, Australia, and New Zealand; it's highest point thus far is #35 in the U.S.
At the 2006 MTV Movie Awards, Hayden Christensen won for "Best Villain." Hayden vs. Ewan McGregor lost to — what a surprise — Angelina Jolie vs. Brad Pitt in the "Best Fight" category. McGregor was also nominated as Obi-Wan Kenobi, but lost to Christian Bale (Batman Begins) for Best Hero.
In addendum: Gnarls Barkley is Alternative / Soul / Experimental music.