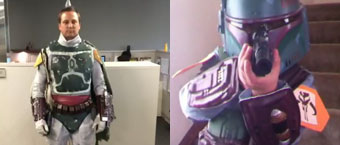 Vine, the very short video social network from Twitter (which only works if you have the app via vine.co or see it shared somewhere), has got some Boba Fett fans making cool stuff.
Check these out:
Have you found any others?
Related, if you need any help this Halloween, check out our Boba Fett Halloween guide. We also have a killer guide to building your own Boba Fett costume, and a database of Boba Fett costumes available to order.