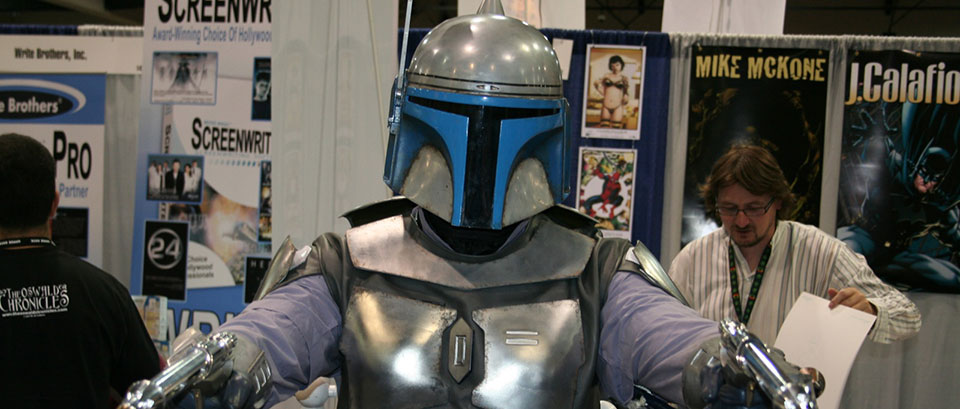 Posting shortly:
Action Figures: "Evolution of the Fetts," a multi-pack of Fett's (announced 7/27)
Action Figures: EntertainmentEarth's Mando sets, new pictures
Action Figures: Cloud City set with Boba Fett, new pictures
Action Figures: "Marvel Star Wars"-color Boba Fett (with Sarlacc "goo") and Droid two-pack from the Marvel Star Wars #81 ("Jawas of Doom")
Action Figure: new Jango Fett with poncho, new pictures
Replica: Master Replicas new helmet replica
Statue: Fett in Russian doll form
Statue: Fett "

Mighty Mugg"

Pictures and profile of costumed Fetts, ala Celebration IV
See Sadriel's post on the message board.
Other news coverage of Fett figures and fandom at Comic Con, in the same format as our Celebration IV round-up:
VIDEO – 'Boba Fett' Is Really Kevin From New York
NBC 11 News
PHOTO – Little Boba Fett
Flickr user gamerscoreblog
PHOTO – Boba Fett Taking Aim at Me
Flickr user gamerscoreblog
PHOTO – Jango Fett
Flickr user chuff.dogg
PHOTO – Con-Fett-i
Flickr user Official Star Wars Blog
PHOTO – Boba Fett (Gentle Giant display)
Flickr user foxpaws42
PHOTO – Boba Fett
Flickr user comiquero
PHOTO – Random interaction with Boba Fett
Flickr user Birdznest
Thanks to Sadriel_Fett and Cujo for meeting up with me at Comic Con! Here's the first of many BFFC meet-ups to come.