[UPDATED 4/13 7:00pm PST: Bluefin added with Ronin Fett lowdown. // 4/13 10:30am PST: Funko price added for the Proto Fett Wobbler. // UPDATED 4/12 6:30pm PST: Sideshow info and some booth numbers added.]
We will be covering all four days of Star Wars Celebration Orlando (aka SWCO), live from the convention with photo and text posts.
For real-time updates, see our Facebook and Twitter feeds!
This guide is available in advance of the convention and we will be intermittently updating it as we know more of what's confirmed, when, and where.
Besides two Boba Fett actors and two of the volunteers who help run the Boba Fett Fan Club attending, here's our preliminary guide on where to go when!
ALL DAYS
Talent
Official Merch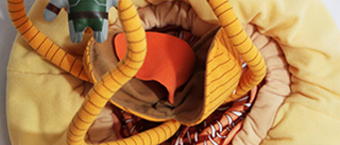 Sure, you could get a Star Wars hoodie or a BB-8 as an orange… but one of the six official merchandise releases for SWCO is a Sarlacc Plush with Removable Mini Boba Fett!
Pin Trading Program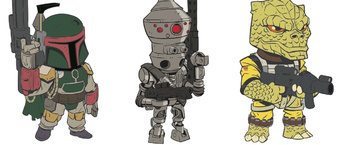 As of March 28, IGN shared an exclusive reveal of all the pins in the series. Here's the "Bounty Hunter 3-Pack" with Boba Fett, IG-88, and Bossk. It will be sold at the show store during the convention.
Originally, the official Celebration site showed a silhouette of yet-to-be-announced pins right now, but the image's filename clearly says "Boba Fett." Whoops!
Sideshow Collectibles
Their yet-to-be-released Premium Format Jango Fett was shown at SDCC 2016 but it's out on display at SWCO this year. (Thanks to Jaycepticon for the heads up on Wednesday afternoon.)
Cartamundi USA @ Booth 2922
They have a Ralph McQuarrie card set and a Boba Fett giveaway card on Sunday!
Star Wars Authentics
This is the new vendor for official photos, usually for autographs but also suitable for framing.
Gentle Giant
They have their giant Boba Fett bust on display, just for conventions like this. It's based on a much smaller 2003 bust.
Bluefin
This booth has the Ronin Jango Fett on display and what appears to be a free catalog which shows a new Ronin Prototype Boba Fett coming in July.
Funko @ Booth 3444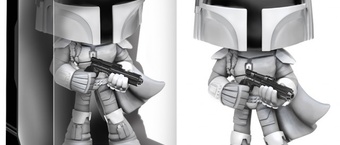 [UPDATE: These are going for $15.]
Funko was expected to have a convention exclusive Fett and they announced it on March 21st. It's a Funko Wobblers Prototype Boba Fett. There's also a lottery to deal with, so get in that in advance! Note that they have a limit of one of each exclusive item per person.)
There's a rumor that this will be a "shared" exclusive, possibly with Toys"R"Us… More details to come.
Artists at the Star Wars Art Show by ACME Archives
Also: Ralph McQuarrie Archives has a table in the exhibit hall: booth 1624!
Road Squadron
Rebekah Knuth's car, Ivor Fett, which is decked out in a one-of-a-kind Boba Fett wrap, is on display at SWCO.
THURSDAY, APRIL 13
1:30 PM: "Animated Origins and Unexpected Fates" panel with Dave Filoni should bring up Fett, at least for his animated origin in the Star Wars Holiday Special
11:00 AM – 12:00 PM: Meet the 501st should have at least one Fett cosplayer.
FRIDAY, APRIL 14
3:00 PM – 4:00 PM: FFG Panel may bring up Fett-related expansions to the popular game.
3:00 PM – 4:00 PM: Star Wars Collecting: Social Media & Networking might have Fett references.
SATURDAY, APRIL 15
11:00 AM – 12:30 PM: Star Wars Rebels Season Four Sneak Peek which may or may not hint at Fett's possible return to an animated series…
12:00 PM – 1:00 PM: Create-a-Clone Drawing Class with Chris Dee & Joe Hogan at Star Wars Family Room W311- Classroom Area will have some Jango Fett action.
12:30 PM – 2:00 PM: Costume Contest Finals at Celebration Stage – Chapin Theater (3rd Floor) should have at least one Fett in the top 5, if not take first place.
2:30 PM – 3:30 PM: The Galaxywide Premiere of Star Wars Battlefront II may bring back Boba from the "first" re-booted game, although he wasn't in the leaked teaser trailer
SUNDAY, APRIL 16
TBD