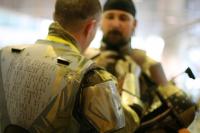 Four die-hard fans take the high road with original takes on designing Fett, just in time for Celebration IV, which just happened in late May 2007. Exclusive photos and words on a Mando sniper, female Mandalorian, tribal Fett and 'Open Seasons' Jango.


Ray Ramirez
Ray Ramirez is Mando Sniper from the BFFC Message Boards. He's a close collaborator with author Karen Traviss, having spent time in Iraq as a sniper with his friend, Ed. Check page 240 in Bloodlines. His costume, customized with Mando'a poetry on the backplate and real battle-worn detailing, won third place at Sunday's costume contest.
Joanne
Joanne, sporting her first armor, also had a Karen Traviss connection, specifically about the female Mandalorians, of which she epitomized. She spoke of Tom Hodges collaboration with Traviss for the look, which appeared in a Star Wars Insider article on Mandalorians. Joanne said she specifically chose gaudy colors for her costume after a conversation with Traviss; "let the enemy see you coming." Her costume was a collaborative effort and had a unique take on the leg armor: it was intentionally asymmetrical.
Lance Dworshak
Drawn to Mandalorian culture's tribal community and family values, Lance Dworshak spent four months on his creatively-charged costume. He has a reference binder, overflowing with print-outs from "various Boba Fett sites," and noted his gloves: circles, just like an original pre-production photo (and 1995's Power of the Force 2 action figure). He found the perfect glove for $10 at a Home Depot near his residence in Phoenix, Arizona. Lance also marched in the recent Rose Bowl parade.
Cruzer
Cruzer went with an Open Seasons Jango look, taking him two months. He's from Porterville, California.
See our previous post, Exclusive Roundup of C4 - Fett Style, for more coverage.
Thanks to Corran_Fett for a correction about Ray's cameo in Bloodlines.