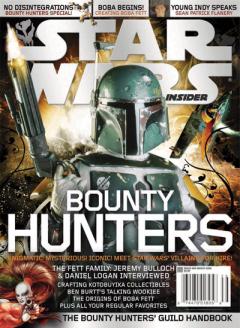 Subscribers of the Official Star Wars Fan Club can expect Boba Fett in the mail as early as January 15th, 2008. For the rest of us, expect the issue to fly off newsstands.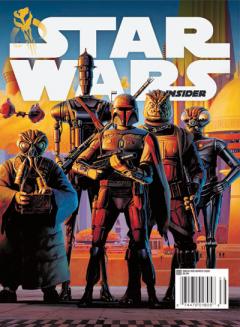 The official web site has a press release and includes two covers:
Dastardly, despicable and downright chilling... Star Wars has had its fair share of bad guys, and Star Wars Insider #99 is dedicated to the bounty hunters in all their villainous glory. Here's a look ahead at what you'll find inside.

Tales of the Bounty Hunters They may be minor characters on screen, but beyond the six Star Wars films, bounty hunters have made a significant impact on that galaxy far, far away....

Meet the Fett family An interview with the man behind the mask -- Jeremy Bulloch -- and Boba's younger self, Daniel Logan from Attack of the Clones.

Bounty hunter's Handbook Do you have what it takes to be a bounty hunter? Check out Star Wars Insider's exclusive guide to the lifestyle and challenges of facing off against galactic bad guys!

Crafting Kotobuyika's Collectibles Exclusive access to the making of Kotobuyika's brand new series of bounty hunter figures.

Boba Begins -- Think you know when Boba Fett's first appearance was? Prepare to be surprised as the magazine reveals the secret origins of this most enigmatic of bounty hunters.