He's Worth a Lot of Money to Me
Until you hold it in your hands, it can be hard to appreciate the Boba Fett Deluxe Version Sixth Scale Figure by Hot Toys.
You can (as I did) stare at it slack-jawed online for hours, appreciating every little detail down to the paint scuffs on Boba's helmet, or the twists in the braids over his right shoulder, or the painstakingly executed seams in the flight suit.
It all sort of feels incomplete, somehow. Even when the box arrives, it'll feel just like any other toy.
Only when you start unpacking it and you finally see the real thing in person, will you have answered that all-important question: "Would I rather have this, or the $267 it cost?"
My take on it is: If you already crossed that mental bridge to where you're considering it, or if you've already pulled the EE-3 trigger, you're highly likely not to miss the cash once you get your mitts on this toy. That's because of the incredible amount of detail and quality.
This is a Boba Fett figure for Boba Fett fans. Truthfully, it doesn't really feel like a "toy."
I mean, it certainly is one. You get that sense from the soft plastic feel of his blaster holster, the slip-on quality of his upper-body armor, and the classic execution of points of articulation—though Hot Toys boasts 30 of them, it still ultimately feels like an ultra-fancy G.I. Joe in Mandalorian armor. You might even feel OK letting a kid play with it. A really careful, trustworthy kid.
But then when you start getting into posing it, swapping out hands (one pair of fists, one pair of relaxed hands, one pair of weapon-holding hands, and a "gesturing" left hand—per costume!), changing weapons, and paying attention to all the minutiae, it truly begins to feel like a bona fide model, something that can stand with gravitas in your study or nerd cave, even if you do have the capability to whip him around through the air or just subtly articulate the neck joint forward with a dignified helmet nod.
What truly stands out about this entry in the "Movie Masterpiece Series" is the sheer amount of fanboying that was evidently done in the creation of the model. The artists are J.C. Hong and Lok Ho, and I imagine they grinned as much in the designing of this toy as I did unpacking it.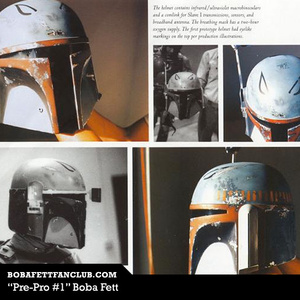 It's the little details that keep adding up. The bits of weaponry/tools below his knee pads? Those are individual plastic pieces, painted and cut in high detail, that slide into pockets. Nearly every piece is removable for swapping between outfits — "The Empire Strikes Back" and "Pre-Pro #1" (PP1) — should you decide it's time for Boba to do less haggling with Darth Vader and more getting dragged into the Sarlacc pit. As a staunch member of Team ESB Boba and his greener look, even I can't deny that the PP1 getup looks great, too. Seemingly minor changes are represented between outfits, from the addable spats in the PP1 uniform to entirely different helmets (kill stripes, capes, utility/cargo pockets, and jetpacks for either costume). The alternate helmet included — red kill stripes, "eye"-style markings near the crown — is the PP1 style helmet.
Materials-wise, Sideshow Collectibles (where I purchased from) doesn't really list the plastics involved, other than to guarantee that according to California law, they're proven to give me cancer and cause reproductive harm. I'm already bald and I don't want kids messing with this toy anyway. Worth it. (In all seriousness, Prop 65 is an ultra-careful plastics warning label you'll even find on kiddies' pool toys.)
But, to my eyes and fingers, it's a super high-quality figure. The plastics are soft and malleable where they need to be without being fragile (thicker parts, like the thumb/fingers, which need to bend some to fit into the equally sturdy but flexible weapon holes, are a prime example). The whole thing feels relatively light, despite standing nearly a foot tall, without feeling cheap. Cloth-like capes are easy to move around Boba's body to create a sense of dynamism where you need it, and things like his belt, gauntlets, and other accessories all move around and stay in place with no fuss.
Those many articulating joints stay firm without being difficult to move, so you can easily recreate many of Boba's iconic poses or come up with your own. I'm partial to the two-handed carbine hold and head nod, and the PP1 example shown on the box art captures the fight with Luke nicely. And while I've found countless standing poses for Boba in which he can balance perfectly on his feet, there is, of course, the included stand and platform to prop him up in the event you choose a dynamic pose that's more gravity-prone.
With dozens of hand/pose/weapon/costume configurations possible, some level of "replay-ability" is even available here. I've got tons of tchotchkes around my office desk, half of them Boba, and none of them compel me to tinker or play—I just like how they look. But I can easily see setting this one up within arm's length, because of the temptation to switch things up. That's afforded because of the incredible amount of quality variations available.
A few minor misfires I noticed include the strap on one of the blasters detached (probably a simple fix with Superglue, but still, for the price you wouldn't expect it to simply detach so easily) and one of the two pegs from the alternate shoulder pauldron was missing, having been snapped off somewhere along the line. Little gripes, but certainly things that anyone tossing down cash would feel sore about.
However, I truly can't find anything else major to knock about this, unless we want to consider price a prohibitive factor—and for many, it certainly will be. I would imagine fans in a deluxe figure market would expect to shell out $300 or more for "Deluxe." It comes with a hefty price tag, and also the expectation of being worth it. All told, let's call this one a 13-out-of-14 kill stripes rating, knocking off for those tiny trespasses.
The Boba Fett Sixth Scale Deluxe advertises as a premier item for a sixth-scale figure and delivers. This is a bounty you'll be glad you captured.