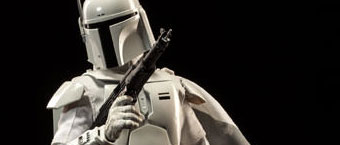 Abuzz all over the web is the revisit to the 1978 film reel that was a screen test for Boba Fett, used for the production team as Boba Fett was still being developed and as Empire was still being written.
In the clip, sound editor Ben Burtt introduces the viewer to Boba Fett, as portrayed by assistant editor Duwayne Dunham. In later photos, Alan Harris models the suit.
Coinciding with this anniversary, Sideshow Collectibles has a new replica statue due in early 2014 for $180. Do you want to pre-order with the beach towel — or without beach towel?