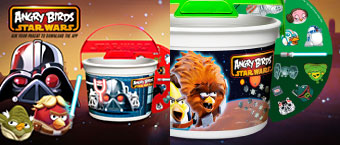 Ask for the green one. It's one of three Angry Birds Star Wars buckets includes a Boba Fett bird-ified sticker.
Part of a larger marketing campaign, there's also a television ad running that includes Boba Fett more prominently: swapping heads with Darth Vader.
Thanks to BFFC fan @kaijudude for the tip! Promo image sourced by Euclidboo.