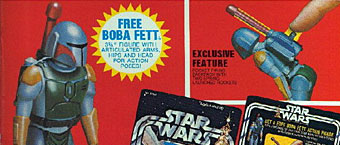 In a press release from Hasbro, in step with the 30th anniversary of The Empire Strikes Back, there will be a mail-away Boba Fett figure.
The mysterious Boba Fett played a key role in the original STAR WARS trilogy, firmly establishing him as a favorite villain for generations of fans. ... Additionally fans are also encouraged to collect five of the marked figures in the new vintage lineup to send away for their very own "Rocket Firing" BOBA FETT action figure, identically styled after the 1980 mail-away figure.
The original "rocket firing" Boba Fett never was mailed out because it was deemed dangerous for children. Only a few prototypes were made.
More recently, there was a Boba Fett figure made with a giant rocket firing contraption on its back, which is apparently not a danger for poking your eye out.
Thanks to @yakface for the tip.