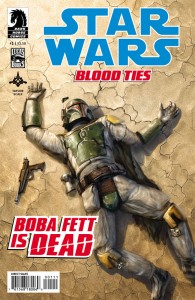 This week was the debut of the new Star Wars: Blood Ties 4-part series called "Boba Fett is Dead."
The news spreads from one end of the galaxy to the other like wildfire: Boba Fett, the galaxy's most feared bounty hunter, is dead.

But when members of the team that killed Fett are themselves picked off one by one, Connor Freeman–the son of one of Jango Fett's clones–gets pulled into the action in a most unexpected way!
The series is written by Tom Taylor. The artwork and cover is Chris Scalf.
The publisher, Dark Horse Comics, has a preview of the comic's first few pages online.
The series "Blood Ties" was previously used for a Boba / Jango four-part comic book series, "A Tale of Jango and Boba Fett."