"Pre-Pro #1" Boba Fett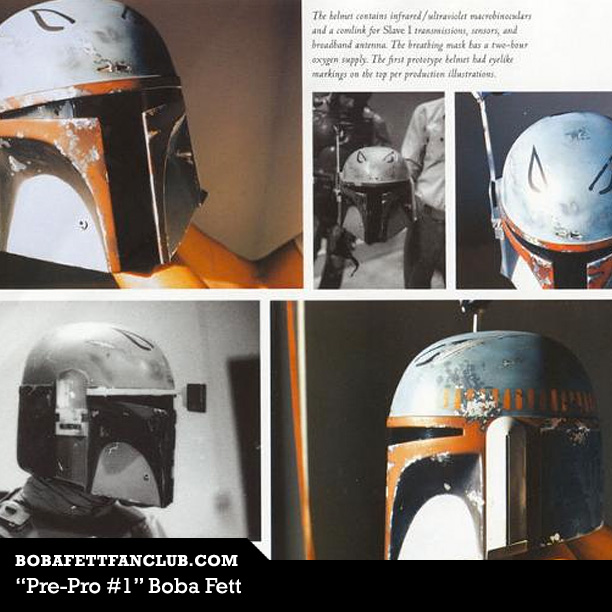 Mid 1978
"Pre-Production #1" (PP1) Boba Fett (Mid 1978)

It's believed that Joe Johnston painted this version, using the "Concept" / Supertrooper costume as the base. The jetpack was converted from the White Prototype / Supertrooper costume.

There are two micro variants: initially the helmet had "eyes" (later called "Jaig eyes") and then they were painted over to have "ears," like bunny ears. The "eyes" version didn't have the kill stripes, but the "ears" one did. Neither detail was used on future iterations, e.g. PP2.

This costume was worn by Duwayne Dunham at the 1978 San Anselmo Community Fair and Parade, which is Boba Fett's first public appearance.
Upper Body
| | |
| --- | --- |
| | Helmet "eyes" (version 1, later called "Jaig eyes") and then "ears" (version 2) higher up; you can see the "eyes" were painted over |
| | Left and right "ears" are nearly the same color, unlike PP3 |
| | Painted over version of the all-white Prototype helmet |

| | |
| --- | --- |
| | Front right armor plate is a different green than the front left side |
| | Back armor is mostly free of scratches |

| | |
| --- | --- |
| | Sling gun (made from a Kaiser camera rifle grip and shoulder stock, Rotring Sec-O-Mat arrow, and hand telescope) |

| | |
| --- | --- |
| | Teal, yellow, red and white, like the ROTJ |

| | |
| --- | --- |
| | Right gauntlet is red |

| | |
| --- | --- |
| | Unique skull variant on the left shoulder |

| | |
| --- | --- |
| | No symbol on the right shoulder |

| | |
| --- | --- |
| | Different shoulder symbol |

| | |
| --- | --- |
| | Different chest symbol |

| | |
| --- | --- |
| | Right grey-brown glove has a circle with three divisions and left grey-brown glove has a circle with triangle divisions |

| | |
| --- | --- |
| | Olive green cape |

| | |
| --- | --- |
| | Poncho style, often seen wrapped around the front armor and connected to the shoulder armor |
Lower Body
| | |
| --- | --- |
| | Same or very similar as the ESB knees |
Variant Boba Fett Costumes