"Pre-Pro #1" Boba Fett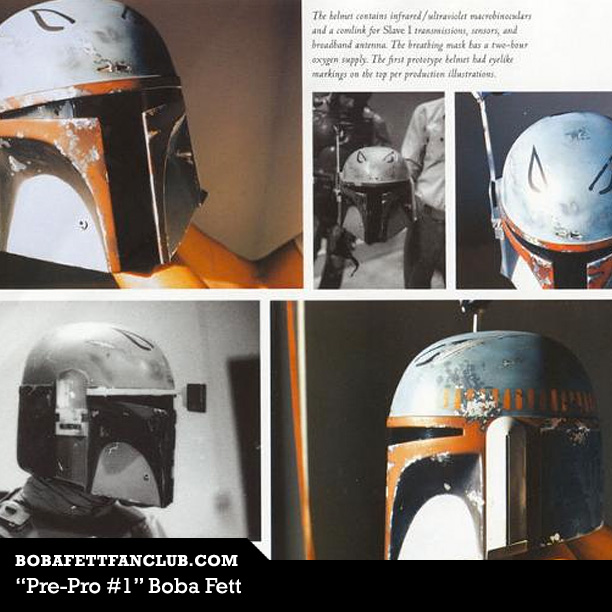 "Pre-Production #1" (PP1) Boba Fett (Mid 1978)

It's believed that Joe Johnston painted this version, using the "Concept" / Supertrooper costume as the base. The jetpack was converted from the White Prototype / Supertrooper costume.

This costume was worn by Duwayne Dunham at the 1978 San Anselmo Community Fair and Parade, which is Boba Fett's first public appearance.
Upper Body
| | |
| --- | --- |
| | Small blaster with cradle (made from a Kaiser camera rifle grip and hand telescope) |

| | |
| --- | --- |
| | Olive green cape |
| | Poncho style, often seen wrapped around the front armor and connected to the shoulder armor |

| | |
| --- | --- |
| | Poncho style, often seen wrapped around the front armor and connected to the shoulder armor |

| | |
| --- | --- |
| | Front right armor plate is a different green than the front left side |
| | Back armor is mostly free of scratches |

| | |
| --- | --- |
| | Right gauntlet is red and left gauntlet is yellow (ala "ketchup and mustard" gauntlets) |

| | |
| --- | --- |
| | Right grey-brown glove has a circle with three divisions and left grey-brown glove has a circle with triangle divisions |

| | |
| --- | --- |
| | Helmet "eyes" (version 1, later called "Jaig eyes") and then "ears" (version 2) higher up; you can see the "eyes" were painted over |
| | Left and right "ears" are nearly the same color, unlike PP3 |
| | Painted over version of the all-white Prototype helmet |

| | |
| --- | --- |
| | Teal, yellow, red and white |

| | |
| --- | --- |
| | Teal, yellow, red and white |

| | |
| --- | --- |
| | No symbol on the right shoulder |
| | Unique skull variant on the left shoulder |

| | |
| --- | --- |
| | Different shoulder symbol |
Lower Body
| | |
| --- | --- |
| | Same or very similar as the ESB knees |

| | |
| --- | --- |
| | Same or very similar as the ESB knees |
Boba Fett
Coming Soon
Compare side-by-side costume differences