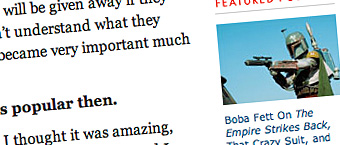 After thirty years of The Empire Strikes Back, Lucasfilm is releasing a new book, "The Making of Star Wars: The Empire Strikes Back." As one of the VF Daily's contributing writer Mike Ryan talks with Boba Fett actor Jeremy Bulloch:
Mike Ryan: There was a lot of buildup and hype with the Boba Fett character leading into Empire. Say what you will about The Star Wars Holiday Special, which I'm not sure Lucasfilm will even admit exists (the Lucasfilm rep in the room audibly laughs), but there was the Boba Fett cartoon during that special which piqued a lot of interest.

Jeremy Bulloch: The only thing that I thought was a bit strange was when I was shown a small figure of Boba Fett and I hadn't even started filming, and they said, "Well, this will be given away if they send in [proofs of purchase]."And I didn't understand what they were saying at all. Obviously the figures became very important much later on.

And action figures weren't quite as popular then.

Then, there was just the off figure. And I thought it was amazing, "look, I'm in plastic, already." This was before the first day, and I thought they might not like what I do and get rid of me. But now, of course, there's so many things that are being made and in incredible detail–and Boba Fett is an ideal character to have because he has so many gadgets on his armor and his weaponry.