As the members of The Boba Fett Fan Club have already expressed in advance, today is Jeremy Bulloch's 62nd birthday.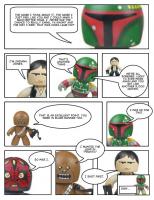 Clamixx, a comic book writer, has a comic appropriate for today, called "When Jeremy Bulloch and Peter Mayhew (Chewbacca) bump into Harrison Ford."
For more about Jeremy Bulloch, see our wealth of information at the Ask Jeremy section here at BFFC. We've got an exclusive bio from him, his convention schedule, his contact address, and more. Also check out his official site, where you can pick up his book or signed photo.
Also, last month an interview with Jeremy was published in issue #99 of the Star Wars Insider.
We here wish him the best and look forward to sending along your wishes, in comments below.