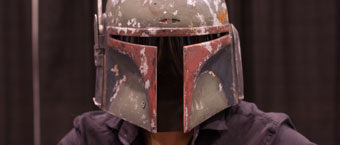 One highlight of Day 3 at Star Wars Celebration Anaheim involves Young Boba Fett, Daniel Logan. This afternoon he was presented with a hand-crafted, screen-accurate Boba Fett helmet. We spoke with him after the festivities settles down — the Mercs were in the middle of a "bounty hunt." Daniel specifically wanted a more muted look to appear more cinematic, and can't wait to upgrade it with a servo and lights.
He graciously let us shoot some stills with him in and out of the bucket. Here's a preview of our shoot!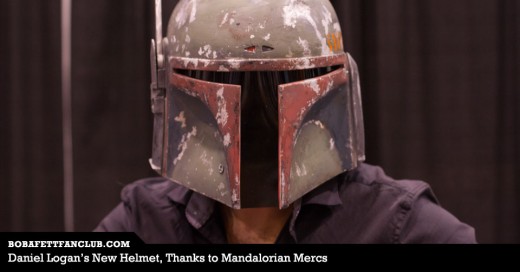 The helmet was crafted by Molon Labe Studios. For the cosplayers out there, it's Molon's helmet, MQ-1, and dental file molds. "I installed the visor, aluminum stalk and rangefinder topper — and of course the paint up," noted the artist on Instagram.
Photo by Boba Fett Fan Club.