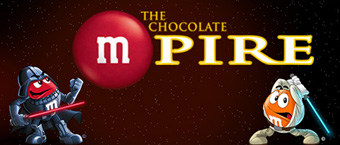 The Associated Press chose to distribute a photo (given to them by the makers of M&Ms) for the new design promoting Episode III, which made high ranks for top news photos sent from Yahoo.

New packaging for M&Ms features 72 variants, two of which include Boba Fett on the Dark Peanut Medium Size bags: #33 and #40.
The promotion begins tomorrow, April 1st.
In this photograph provided by Masterfoods USA, Tuesday, March 29, 2005, in New York, a package of the new dark chocolate peanut M&Ms candy is shown. Masterfoods USA is introducing the plain and peanut dark chocolate varieties of M&Ms with a Star Wars pitch: Go to the Dark Side. (AP Photo/Masterfoods USA)
Source: news.yahoo.com