In an exclusive interview, Hasbro told us their Book of Boba Fett Retro Collection inspired designers to look back and emulate how Kenner did things decades ago.
San Diego Comic-Con 2023 ended July 23, but Hasbro's reveals at the convention gave Star Wars action figure collectors – and Boba Fett fans – a lot to look forward to in the next year. Two members of the Hasbro Star Wars team, Patrick Schneider, global brand manager, and Chris Reiff, product design manager, gave Boba Fett Fan Club behind-the-scenes info about how The Vintage Collection, Black Series and Retro Collection really gets made.
It's been a little more than a year since The Book of Boba Fett concluded with Boba Fett defeating the Pykes as the daimyo of Mos Espa, and the action figures inspired by the series are trickling out more frequently now. We got a chance to see the The Book of Boba Fett Retro Collection figures for the first time at SDCC, which include Boba Fett in his Dune Sea Tusken robes, Fennec Shand, The Mandalorian, Luke Skywalker, Grogu, Cad Bane, Black Krrsantan and the Tusken Warrior.
The Retro Collection is another 3.75-inch line like The Vintage Collection, styled after the original Kenner figures, just with less articulation than their modern equivalent. Reiff told us today's Hasbro designers imagine how Kenner would have approached the design of figures from new content like TBOBF. They even think about the references Lucasfilm would have given Kenner then, which were a far cry from the full turnarounds of characters and scans Hasbro is given today.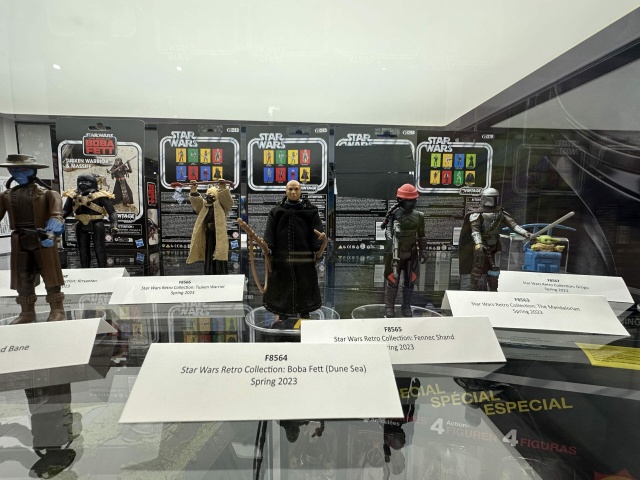 "It would have been a couple maybe not-so-great shots from the set or maybe something's backwards, like those sort of things," Reiff said. "And trying to work in, not errors, but a certain style that hearkens back to that and why Kenner stuff looked that way."
As an example, Reiff said the Retro Collection Tusken Warrior uses the same underlying body structure as the original Kenner Tusken Raider figure, but drops the stylized, very-'70s vinyl cape for an updated soft-goods version that "completely changes the look of that figure."
The other Retro Collection figures follow the same formula. The Boba Fett (Dune Sea) figure comes with a soft goods robe, along with his rifle and Gaffi stick, but the face still has sparse paint deco like the originals.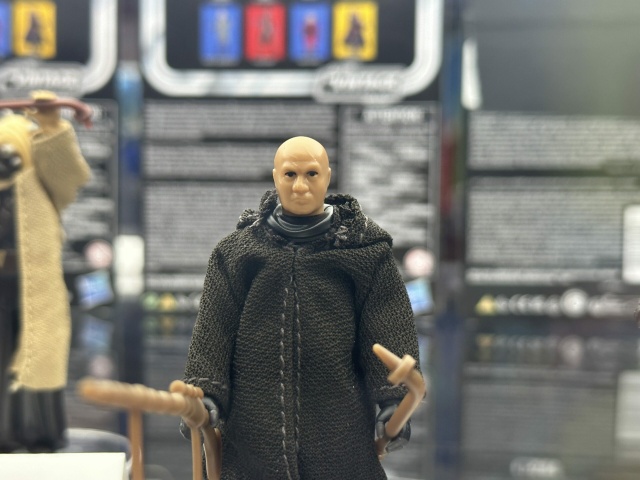 Reiff also said the Retro Collection Cad Bane's overhanging hat is molded in a similar way to the Kenner Death Squad Commander's helmet, and the backpack that comes with the Retro Collection Grogu figure based on the TBOBF training scene is modified from the backpack included with the 1996 Power of the Force 2 version based on Yoda's Empire Strikes Back training scene.
The Retro Collection Fennec Shand has a removable helmet like the Kenner Leia-as-Boussh, and like the original, Fennec's face is intentionally a bit smaller and distorted to allow the helmet to come off. The TBOBF Luke has a soft-goods cape like the Kenner ROTJ figure, just in a new color that better matches his updated look. And finally, the Retro Collection Krrsantan utilizes piece shapes similar to the Kenner Chewbacca, just modified to be more like the Wookiee bounty hunter and with an added armor piece.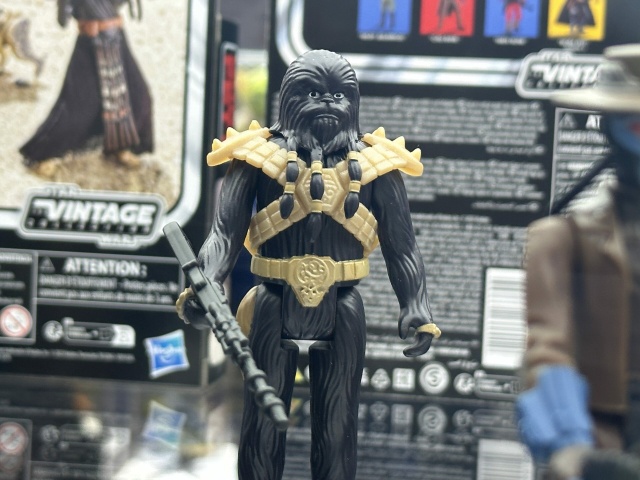 "The idea is that our new retro stuff fits right in and is a continuation of both the spirit and effective line of what Kenner was doing," Reiff added.
While there is no pre-order available for TBOBF Retro Collection figures yet, they will be $11.99 and are scheduled to release this year. [Editor's Note: Their Spring 2023 signage may be a goof. Previous press releases say Fall 2023.]
We also learned more about Hasbro's character selection process when it comes to their action figure lines. Schneider said that with all of the new Star Wars media released today, plus everything that's come before, we're in a "golden age of Star Wars collecting," and that it's a collaborative effort among Hasbro, Lucasfilm and Disney, with fan convention and social media feedback added in.
"[Lucasfilm and Disney] bring us their point of view, kind of what they think is going to be big in new media, what their other priorities are. We bring kind of the perspective from the toy community and we land on those selects," Schneider said. "And I think we usually end up in a good place."
The Book of Boba Fett also inspired The sole SDCC-exclusive figure, which is a more deluxe version of the mainline TVC Black Krrsantan. Convention attendees had to use a unique QR code to purchase the figure on Hasbro Pulse for $39.99. But fear not: If you didn't travel to San Diego this time around, there will be limited quantities available on Pulse at a later date.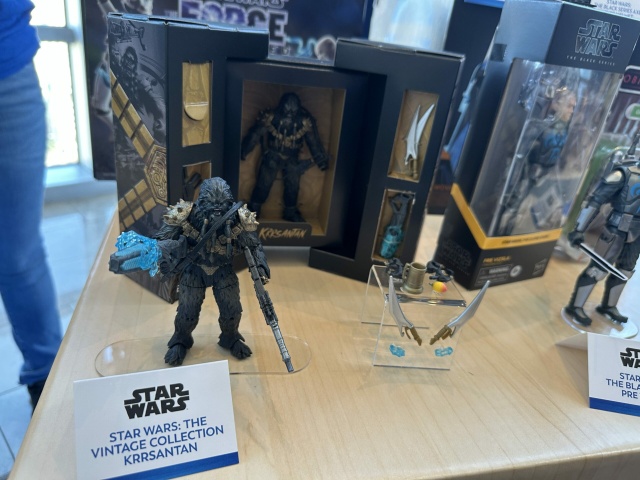 The original, mainline TVC Krrsantan, which is still on pre-order, comes with nine accessories for $27.99. But the SDCC-exclusive version comes with 14 accessories, adding two swords, a heavy blaster with an electric shock effect and a bowcaster to the original nine, along with a fold-out display box and a new angry Krrsantan head.
Hasbro also had their TVC Boba Fett's Throne Room set up at their booth, although this time around, rather than being based on its look during The Mandalorian and TBOBF, it was Return-of-the-Jedi-style.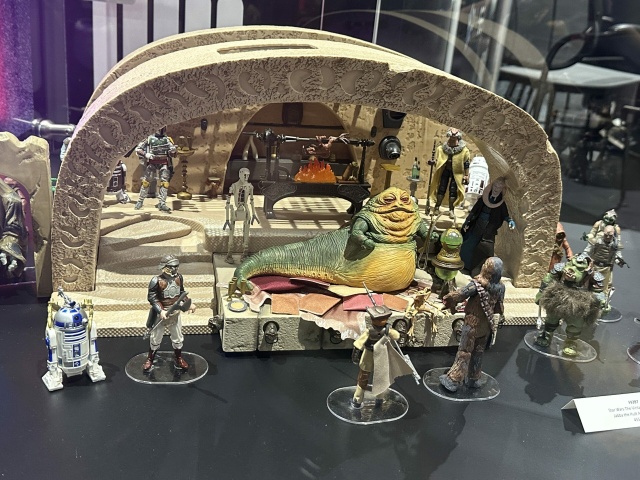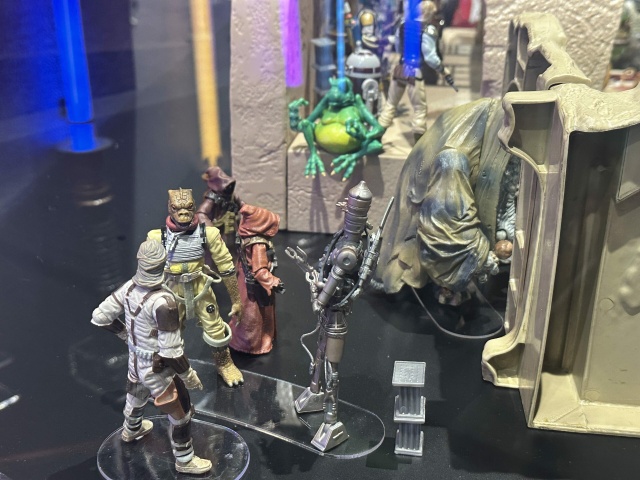 Schneider said the throne room, which has been on pre-order for quite some time, is still on schedule to arrive in September 2023, and while pre-orders have ended for that particular set, you can add the the new TVC Jabba the Hutt set to your collection by pre-ordering on Hasbro Pulse for $89.99.
Finally, we asked Schneider and Reiff about some of the issues collectors are having with pre-orders and shipping from retail partners like Target and Walmart. The Target-exclusive TVC Kenner colorway Boba Fett figure has been on pre-order since 2022, and while it recently began showing up at physical Target locations, those who had pre-ordered online are still waiting for theirs to arrive.
While Schneider hadn't heard about that particular pre-order snafu yet, he said, "It's certainly not what we strive for. The way the process should work is obviously pre-orders get fulfilled first. Those are the fans who reserve them at the beginning and then they flow into store."
There have also been continual issues with the packaging that figures arrive in, with bubble mailers and crushed boxes damaging figures' cards and bubbles.
"Trust that we feel the same pain," Reiff said. "We're buying the same stuff, seeing the same stuff."
Schneider said that Hasbro is continuing to closely work with those partners to make sure fans get their figures in crisp condition.
"That's why we love being at the conventions, to get this information, to fix it and make it better for the community."