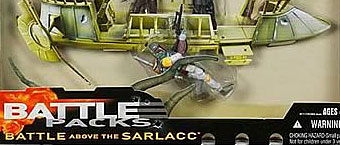 What they were thinking? Wouldn't we like to know. A new action figure set slated for October originally tagged "Demise of Boba Fett" is now called "Battle Above the Sarlacc."
EntertainmentEarth.com, a trusted affiliate of BFFC, addresses the copy:
Boba Fett? Where? Here! Relive the final seconds of the life of Boba Fett, along with the rescue of Princess Leia and the destruction of Jabba the Hutt's criminal empire from Return of the Jedi, with the Star Wars Battle Above The Sarlacc Battle Pack! Featuring 5 action figures and accessories, this set is packaged in an attractive window box with backgrounds from the movie.

Includes: Luke Skywalker (black Jedi Knight attire), Han Solo (white shirt), Boba Fett, Weequay, Lando Calrissian (Skiff Guard disguise). (Subject to change.)
The set was shown at the recent Toy Fair 2006.
Available for pre-order from EE.