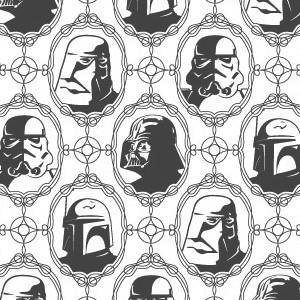 Toy/art/design company, Super 7, is selling officially-licensed "Imperial Forces" wallpaper. The hand-screened, flocked/textured paper features portraits of Darth Vader, Boba Fett, and members of the Empire. The vendor jokingly says it's "an artistic way to decorate your office, collectibles room, or space station."
The paper is available in several roll sizes:
HALF ROLL (27" x 90" able to cover 17 sq ft) - $75
SINGLE ROLL (27" x 180" able to cover 33.75 sq ft) - $120
DOUBLE ROLL (27" x 360" able to cover 67.5 sq ft) - $240
TRIPLE ROLL (27" x 540" able to cover 101 sq ft) - $350
Check it out at super7store.com.
(via technabob)