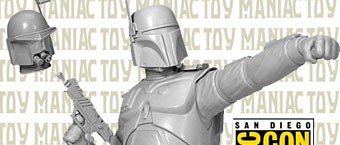 Four months until the San Diego Comic Con 2009, but Mania.com has a first look gallery which includes a new "McQuarrie concept" Fett statue, which will be an SDCC exclusive. Note the exchangeable helmets. The item is 6.5″ tall.
[T]here is a sweet mini bust of Ralph McQuarrie's original Boba Fett design. The alternate helmet really makes it a conversation piece and it will truly stand out better than that action figure version I paid double for on eBay.
More about Ralph McQuarrie on our Fettipedia page.