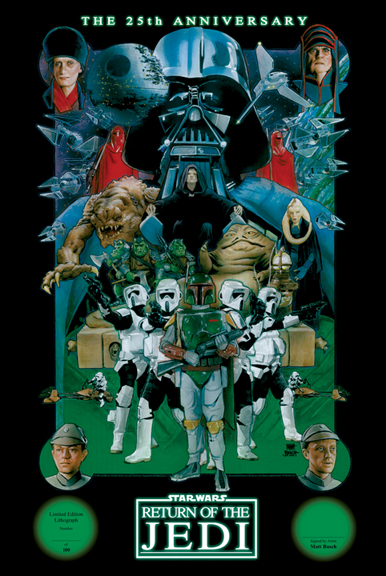 The 25th anniversary year of each original trilogy Star Wars film was marked by the release of a villain style poster created by the joint forces of Matt Busch, Lucasfilm, The 501st Great Lakes Garrison, and Paul Michael Kane. This year finishes the trilogy with the release of a Return of the Jedi poster commemorating all the iconic villains from Return of the Jedi. The Fett man himself takes center stage this time! At the center of the poster Boba stands amidst some Imperial Scouts.
Boba was also the center of the Empire Strikes Back poster! Its great to see a general Star Wars poster NOT have the Fett man half faded in the background but in full view so we can see the Bounty Hunter in all his Mandalorian glory!
The poster is in standard size, measuring 24″ X 36″ and is printed on thick 100 lb. stock with a deluxe aqueous coating. They cost $50 and proceeds will go to the National Lymphoma Society. A member of the Great Lakes 501st, Jay Shimko (TK-130) just so happens to be a lymphoma survivor, making the poster that much more special.