Star Wars Celebration VI, the convention coming this August 23-26 in Orlando, Florida, will feature at least two exclusive prints that feature Boba Fett: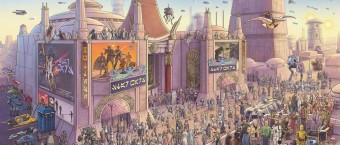 "A Fan's Hope, Naam's Huttese Theater, Tatooine" by Jeff Carlisle (view larger) is almost a "Where's Waldo" treatment. You can see Boba Fett's helmet and jetpack sitting on a lawn chair on the bottom right, plus Slave I flying at the top center.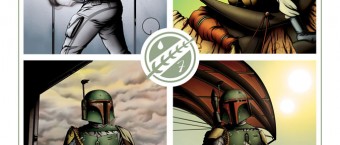 "Boba Fett: Concept To Realization" by Jeff Confer (view larger) highlights four of the looks that Boba has taken over the years.