The Empire Strikes Back (1980)

"A Field Guide to Boba Fett's Mandalore Armor"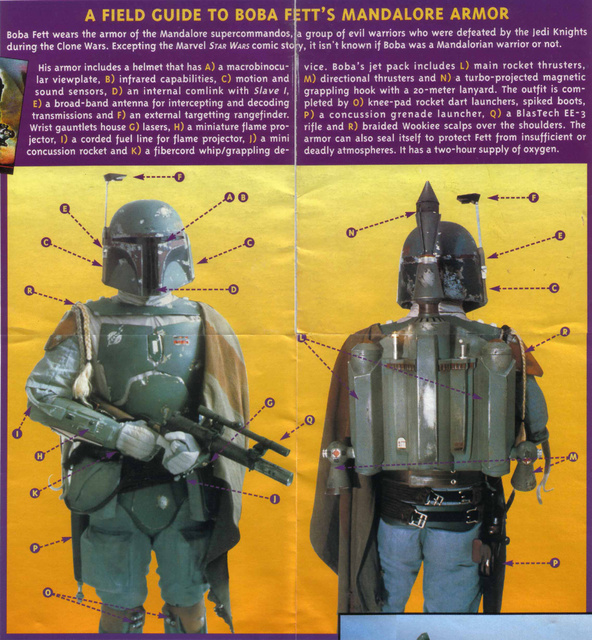 Excerpt from the insert poster in Topps' Star Wars Galaxy Magazine #1.

"His armor includes a helmet that has A) a macrobinocular viewplate, B) infrared capabilities, C) motion and sound sensors, D) an internal comlink to Slave I, E) a broad-band antenna for intercepting and decoding transmissions and F) an external targetting rangefinder. Wrist gauntlets house G) lasers, H) a miniature flame projector, I) a corded fuel line for flame projector, J) a mini concussion rocket and K) a fibercord whip/grappling device. Boba's jet pack includes L) main rocket thrusters, M) directional thrusters and N) a turbo-projected magnetic grappling hook with a 20-meter lanyard. The outfit is completed by O) knee-pad rocket dart launchers, spiked boots, P) a concussion grenade launcher, Q) a BlasTech EE-3 rifle and R) braided Wookiee scalps over the shoulder. The armor can also seal itself to protect Fett from insufficient or deadly atmospheres. It has a two-hour supply of oxygen."
Added
March 23, 2014
Dimensions
2270 × 2454
Uploaded by BFFC Member

BFFC Admin
Image ID
2481
Views
2,852
Image Use Policy
If saving this image for personal use to then re-post, you must include the source, whether it's this website and/or the original source. Our Boba Fett image galleries are a unique resource on the web; it takes a lot of time and effort to curate this all. For the sake of the original sources, it's good to share where something came from and/or who made it. We intentionally credit as much as possible to truly feature and appreciate the work included here. Hopefully you can agree to do that as well. Thank you.
Favorited

AlexPorell

EmpressCarri
About the Galleries
Our one-of-a-kind Boba Fett multimedia vault is a massive, user-contributed collection that is curated to provide un-watermarked, quality media with attribution and other archival meta data.