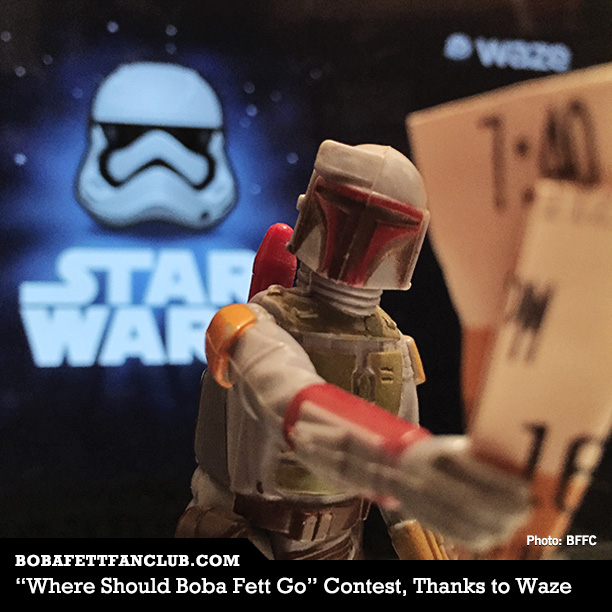 Contest Duration
This contest began November 24, 2015 and ended December 31, 2015.
End time is 11:59pm Pacific unless otherwise noted below.
Prize
Two Fandango Gift Cards ($30.00 value each)
Sponsor
Winners
Ronnie G.
Christopher T.
This contest has concluded, but here was the prompt:
How to Enter to Win
Tell us where Boba Fett should go, now that he can get GPS directions from C-3PO thanks to Waze!
Note: the prize has been awarded.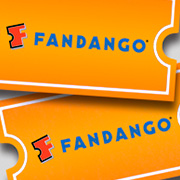 Caption
Author
Date
Fan's
Choice

hold this for a moment
while i go "put captain solo in the cargo hold"

cody johnston


of

brick
2017-07-11

How do you get to screen 17

JAMES


of

Nunica
2017-04-26

"Tickets! Who needs tickets? I got tickets for episode 7.Who needs tickets?" Boba becomes a ticket scalper after realizing bounty hunting just isn't profitable anymore.

I. Andrinopolitis
2017-01-12

Hold my ticket so I can take off my jetpack.

R. Arenas
2017-01-11

The most comically tragic end to a life formed from vain self preservation.

Joshua P Pompa


of

Horn lake
2017-01-09

What did you say happens to Han? If you spoiled this movie for me, you're Bantha fodder.

R. Arenas
2017-01-06

Mommy I don't wanna go!

Jotown


of

Sandiego
2016-11-05

OH MY GOODNESS,I'm missing my ranger!

Jotown


of

Sandiego
2016-11-05

Get this stupid movie over with, I have a sarlacc pit convention to check out.

oliver


of

Hebron,KY
2016-05-04

bobby get is me and my brothers most favorite star wars character EVER because he is awesome and the bounty hunter of my dream (not in a weird way)

isabella
2016-01-22

Come to the sarlacc pit. Nice and warm and has late hype.

Kentorih
2015-12-23

They're no good to me folded

Pat Allosso


of

Chelsea MA
2015-12-18

I need the quickest route to the theater. Popcorn's no good to me stale.

Ronnie G


of

NC
2015-12-17

I hope I don't get a ticket for double parking the Slave I.

BRANDON BARBER


of

HOLLAND
2015-12-17

At least Phasma didn't bring her sword along this time...

Morry Teitelman


of

Allen, TX
2015-12-17

If I'm not in this movie, so help me god, I'll shove this ticket up YOUR Saarlac pit.

Patrick Euglow
2015-12-17

Going to be ducking Goodtimes!

Michael Michael


of

Bellevue
2015-12-17

"Pipe down, Goldenrod!" Fett growled at the Waze app. "I already know the way to the theatre." #soloenvy

Christopher Turner
2015-12-17

Gotta check traffic around the theater. Would hate to have to disintegrate some people for getting in my way...or would I?

Austin Mears
2015-12-17

"i have one ticket to paradise"

Joseph
2015-12-16
About This Feature
We pick the image, you pick the caption. We have 2,082 moderated captions submitted from fans.
Got a suggestion for an image worth captioning? Let us know.