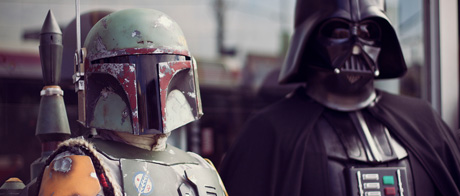 Contest Duration
This contest began March 1, 2015 and ended May 1, 2015.
End time is 11:59pm Pacific unless otherwise noted below.
Prize
Boba Fett Car Decal by FanWraps
Sponsor
BFFC paid for the prize and the shipping
Winner
Austin M.
Rules
Valid caption, weighing points for wit and creativity, plus randomized.
This contest has concluded, but here was the prompt:
How to Enter to Win
Provide a caption.
Note: the prize has been awarded.
Caption
Author
Date
Fan's
Choice

Yo, Vader!

Yo-Face


of

Yo-Face
2015-12-11

Showing up to Mandalorian Thanksgiving with Uncle Vader

Ethan
2015-12-06

Vader:"These Rebel scum shall be taken care of at once!"
Boba:"As yo-"
Vader:"wait WAIT IS THAT LUKE?! HEY YOU KNOW HE IS MY SON AND..."
Boba:*looks at camera like he is on The Office*

Miss Fett


of

North Miami Beach
2015-12-01

...lookin for death sticks???

Cecilia


of

Austin
2015-10-01

Your men must be useless,hence why you ask for the best help in the galaxy,me. hahaha

Jenga74
2015-09-09

So you MIGHT be better at the silent routine. But who's theme music is awesomer? Come on, say it!

Cheyenne


of

Linden
2015-06-02

Hmmm... I wonder if he coffee pot was left on?

Robert Morell


of

Newark N.J.
2015-05-16

Take another picture. I had my eyes shut.

Brentman
2015-04-28

So that's extra spicy chicken wings with fries.As you wish

Angus Macaulay
2015-04-28

I mean, how do you even see out of those tiny eye holes, Vader?

Antony Gibbs


of

Fayetteville, Arkansas
2015-04-28

Oh no He has that look on His face again !

Tommy Harris


of

Bessemer
2015-04-28

You want a piece of Vader? You can't even get through me!

david


of

newton, nh
2015-04-27

Calm down with that heavy breathing, I can feel it on my neck!

Homer Ramirez III


of

Bishop
2015-04-27

Anyone else hear the theme from Bad Boys?

Austin Mears
2015-04-27

Rebels! 1 o'clock!

David Toy


of

Corona
2015-03-10

Hi, Vader!

Derek Daiby


of

carmi
2015-03-10

I'll bet you that the Falcon is attached to one of your Destroyers, and plans to float away with the Garbage before you jump to hyperspace.

jeffkroll
2015-03-09

"No disintegrations," he says. Then he won't let me shoot the Wookie. What a wus.

Ronnie G


of

NC
2015-03-09

And that total prick Vader just wanders in and ... he's standing behind me, isn't he?

Richard Sharman
2015-03-03

Boba Fett: "Bored dude"
Darth Vader: "Wanna get high?"

Richard
2015-03-03

Vader, how many times do I have to say sorry? I won't wedgie you again, now take that look off your face!

Dibs
2015-03-01

Dude. Really? I mean........dude.

Zachary Yost
2015-03-01
About This Feature
We pick the image, you pick the caption. We have 2,082 moderated captions submitted from fans.
Got a suggestion for an image worth captioning? Let us know.