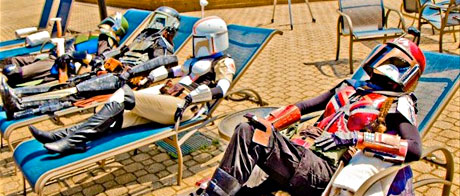 Photo by Matt Zeher. Featuring BFFC member, Manji.
Caption
Author
Date
Fan's
Choice

this is the life

josh
2014-12-24

I got Han last time! It's your turn! No I don't want to! You get him! No you! Forget it I'll just send 4-Lom

Brad
2011-10-15

Boba Fett's children had to learn, that as bounty hunters, they must always mean business in public; even if that means having to wear their full set of Mandalorian armor on a pool deck, in 90F+ weather. They just LOOK like they're taking a vacation.

Christopher Shaird


of

Battle Creek
2011-10-11

Beskar'gam: For when your droid forgets to pack sunscreen.

Buurenaar


of

Greenwood
2011-10-05

Is anyone else's visor fogged?

Don


of

Port Angeles
2011-09-30

Book your all inclusive trip to Tatooine! Included with your trip, ride a desert skiff and see the Sarlacc Pit, see the moisture farms, visit Mos Eisley, and of course, get the best sun tan from our twin suns.

Rodrigo Arenas
2011-09-19

Sure beats the Sarlacc Pit...

Slovok


of

McAllen
2011-09-18

We're all out here working on our tans and our armor's weatherbeaten look.

Tracy


of

Durham,NC
2011-09-13

I'm bored ... lets blow up the snack bar!

Noah Given
2011-09-10

Barbara you're getting a bit red dear.

Brandon


of

Georgetown, KY
2011-08-27

Swimsuit modeling tryouts grip Mandalorian youth; film at 11. Back to you, George.

49th


of

USA
2011-07-22

Green: hey blue theres no line at the snack bar want to raid it?
Blue: should we wake the others?
Green: do you want extra nachos?
Blue: yes

Colton
2011-06-28

"Oh god, look at Niles in the pool in that awful Ewok thong... can someone let him know that Endor chic's been on the decline since the 70's?"

Space Invader Jones


of

Nashville
2011-06-27

The sun is much hotter here than on Tatooine...where's my SPF-50?

Marc


of

West Springfield, MA (USA)
2011-06-27

Worst tan lines ever!

cloneapart


of

Orlando
2011-06-20

for those mandalorian who want to get away from it all--are you nuts this is war!!!!

sintas guy67


of

chamberburg
2011-06-19

where is that waiter with my bahama mama?

charles
2011-06-17

Now that the charges have been set, we're just sitting here enjoying the sweet sight of explosions in the distance.

Ariana
2011-06-15

Today I don't feel like doing anything. I just want to lay in my bed.

Jesse Martin


of

Salisbury
2011-06-12

Even a hunter needs some down time, makes the prey relax before the big catch and payday. Were here for hire oya!

Chris oswald


of

Pueblo
2011-06-11

Anyone else think that it would have just been easier to GO AND GET SOME SUNSCREEN?

Buurenaar
2011-06-11

Anyone else think this tan isn't gonna happen?

Logan


of

wilm
2011-06-11

How a Mandalorian takes a vacation

Scott
2011-06-11
About This Feature
We pick the image, you pick the caption. We have 2,082 moderated captions submitted from fans.
Got a suggestion for an image worth captioning? Let us know.