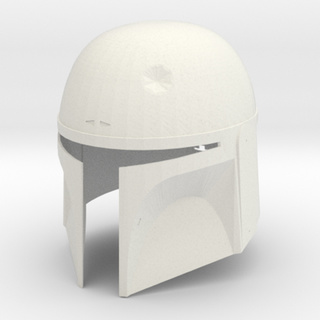 RafalFett
Vendor Details
• 3D printer files of the following:
• Anti-Security Blade PP & ESB (3rd shin tool) ($55.67)
• Anti-Security Blade ST/PP1 & ROTJ (3rd shin tool) ($54.23)
• Belt Buckle ($19.67)
• Boba Fett Abdominal Plate ($80.44)
• Boba Fett Back Belt ($166.70)
• Boba Fett Back Plate ($995.63)
• Boba Fett Belt Buckle 1/6th Scale ($10.13)
• Boba Fett Center Diamond ($11.42)
• Boba Fett Cod Plate ($486.97)
• Boba Fett Collar Plate ($104.53)
• Boba Fett ESB Helmet 1/4th Scale ($26.59)
• Boba Fett ESB Helmet 1/4th Scale With Visor ($27.23)
• Boba Fett ESB Helmet 1/6,2nd Scale With Visor ($51.53)
• Boba Fett ESB Helmet 1/6,5th Scale ($45.91)
• Boba Fett ESB Helmet 1/6,5th Scale With Visor ($45.93)
• Boba Fett ESB Helmet 1/6th Scale ($77.79)
• Boba Fett ESB Helmet 1/6th Scale With Visor ($55.36)
• Boba Fett ESB Helmet 1/12th Scale Without Visor ($10.13)
• Boba Fett ESB Jetpack 1/4th Scale ($192.18)
• Boba Fett ESB Jetpack 1/12th Scale ($22.68)
• Boba Fett ESB Shin Tools 1/4th Scale ($13.50)
• Boba Fett ESB Shin Tools 1/6th Scale ($10.13)
• Boba Fett ESB Sidearm 1/4th Scale ($9.25)
• Boba Fett ESB Sidearm 1/12th Scale ($10.13)
• Boba Fett Full Armor 1/6th Scale ($112.16)
• Boba Fett Full Armor 1/12th Scale ($32.78)
• Boba Fett Helmet - Dented version ($862.33)
• Boba Fett Helmet - Pre-Pro #1 version ($855.58)
• Boba Fett Knee Pads ($191.31)
• Boba Fett Left Chest Plate ($84.83)
• Boba Fett Rangefinder 1/4th Scale ($10.13)
• Boba Fett Rangefinder 1/7th Scale ($10.13)
• Boba Fett Right Chest Plate ($82.44)
• Boba Fett Right Lower Ear ($31.41)
• Boba Fett Shoulder Bells ($168.81)
• Borden Connector ($6.75)
• Casio MQ-1 Circuit Board 1/6th Scale ($10.13)
• Casio MQ-1 Circuit Board ($6.75)
• Casio MQ-1 Keypad ($13.50)
• Cod Studs with Plate ($18.62)
• CTM Helmet Left Ear ($39.09)
• Dental Files ($13.50)
• ESB & ROTJ EE-3 Scope ($90.19)
• ESB & ROTJ Jetpack Beacon 1/6th Scale ($10.13)
• ESB & ROTJ Jetpack Beacon ($15.07)
• ESB EE-3 1/4th Scale ($64.76)
• ESB EE-3 1/6,5th Scale ($29.52)
• ESB EE-3 1/7th Scale ($23.48)
• ESB EE-3 1/12th Scale ($10.13)
• ESB EE-3 Barrel Greeblies ($92.61)
• ESB EE-3 Barrel Mount Greeblies ($13.50)
• ESB EE-3 Body Greeblies ($24.21)
• ESB EE-3 MPP Tube ($106.40)
• ESB EE-3 Stock Center Greeble ($12.68)
• ESB EE-3 Stock Greeblies ($62.27)
• ESB era Boot Plates with Spikes ($21.28)
• ESB era Knee Dart Launchers ($43.79)
• ESB Rangefinder Clear Parts ($20.74)
• ESB Sidearm Barrel ($141.90)
• ESB Sidearm Barrel Parts ($50.34)
• ESB Sidearm Full Original ($273.72)
• ESB Sidearm Full Unmodified ($280.79)
• ESB Sidearm Main Body Original ($170.56)
• ESB Sidearm Main Body Unmodified ($177.15)
• Gauntlet Darts ($6.75)
• Gauntlet Rocket 1/4th Scale ($10.13)
• Gauntlet Rocket 1/6,5th Scale ($10.13)
• Gauntlet Rocket 1/6th Scale ($10.13)
• Gauntlet Rocket ($69.22)
• Gauntlet Rocket Full ($67.28)
• Glenross Dental Expansion Screw ($20.25)
• Glenross Dental Expansion Screw Full ($6.75)
• Helmet Chin Cup 1/2 Scale ($6.75)
• Helmet Chin Cup 1/6th Scale ($10.13)
• Helmet Chin Cup ($17.24)
• Helmet Ears with Rangefinder Stalk ($146.89)
• Helmet Electronics ($13.30)
• Helmet Left Ear ($35.87)
• Helmet Rangefinder Casing ($18.72)
• Helmet Rangefinder Stalk ($12.51)
• Helmet Rangefinder Viewfinder ($6.75)
• Helmet Right Upper Ear ($33.19)
• Honeywell Micro Switch ($6.75)
• Jetpack Adjustment Knob ($13.50)
• Jetpack Adjustment Tool (4th shin tool) ($50.34)
• Jetpack Body ($2,635.72)
• Jetpack Frame with Rings 1/6th Scale ($10.13)
• Jetpack Frame with Rings ($95.98)
• Jetpack Greeblies ($22.42)
• Jetpack Hooks 1/6th Scale ($10.13)
• Jetpack Hooks ($74.65)
• Jetpack Rocket ($230.82)
• Jetpack Rocket Base And Collar ($207.05)
• Jetpack Rocket Hollow ($195.39)
• Jetpack Tank Caps ($179.81)
• Jetpack Thruster Nozzle ($56.23)
• Jetpack Thrusters ($217.87)
• Jetpack Vent And Door Clamps ($15.16)
• MQ-1 Battery Cover ($6.75)
• PP1 Collar Buckle Male Connector - Custom Request ($7.54)
• PP1 Collar Buckle Restraint Button & Bolts ($13.50)
• Pre-Pro #1 Collar Buckle 1/6th Scale ($10.13)
• Pre-Pro #1 Collar Buckle Body & Clip ($20.88)
• Pre-Pro #2 Flamethrower Aluminum Parts ($31.65)
• Pre-Pro #2 Flamethrower Closed 1/6th Scale ($10.13)
• Pre-Pro #2 Flamethrower Closed Full ($69.08)
• Pre-Pro #2 Flamethrower Copper Parts ($18.64)
• Pre-Pro #2 Flamethrower Extended Full ($91.01)
• Pre-Pro #2 Flamethrower Tubes ($59.42)
• Pre-Pro #2 Sling Gun (No Kaiser & Telescope Parts) ($162.08)
• Pre-Pro #2 Sling Gun (No Shoulder and Telescope) ($262.85)
• Pre-Pro #2/Promo Sling Gun ($416.64)
• Promo #2 Beacon ($15.22)
• Rangefinder Casing 1/6th Scale ($10.13)
• Rangefinder Casing & Viewfinder ($22.65)
• Rangefinder Clear Parts ($36.24)
• RMQ Concept Helmet Respirators ($79.90)
• ROTJ EE-3 2 Piece Barrel ($324.38)
• ROTJ EE-3 Back Stock Greeblies ($18.08)
• ROTJ EE-3 Barrel ($277.64)
• ROTJ EE-3 Blaster 1/12th Scale ($10.13)
• ROTJ EE-3 Body Barrel ($246.19)
• ROTJ EE-3 Body Greeblies ($6.87)
• ROTJ EE-3 Front Stock Greeblies ($9.53)
• ROTJ EE-3 Stock Greeblies ($27.59)
• ROTJ era Boot Plates with Spikes ($21.97)
• ROTJ era Knee Dart Launchers ($43.89)
• ROTJ Flamethrower Buttons ($13.50)
• ROTJ Flamethrower Casing ($147.61)
• ROTJ Flamethrower Cover ($28.93)
• ROTJ Flamethrower Nozzles ($18.30)
• ROTJ Hero Flamethrower ($209.50)
• ROTJ Hero Flamethrower Nozzle Housing ($43.55)
• ROTJ Rangefinder Clear Part ($17.48)
• ROTJ SE / ANH SE Flamethrower ($208.18)
• ROTJ SE / ANH SE Flamethrower Nozzle Housing ($41.33)
• Shoulder Studs with Plate ($32.46)
• Sonic Beam Weapon (1st shin tool) ($127.67)
• ST Automatic Blaster Aluminum Plate and Parts ($10.18)
• ST Automatic Blaster Clear Parts ($20.25)
• ST/PP1 Sling Gun (No Shoulder and Telescope) ($278.60)
• Supertrooper (Boba Fett) Helmet ($855.58)
• Supertrooper/Pre-Pro #1 Sling Gun ($440.16)
• Supertrooper/Pre-Pro #1 Sling Gun Parts ($297.12)
• Supertrooper/Pre-Pro #1 Uzi Rotring & Parts Full ($51.15)
• Supertrooper/Pre-Pro/Promo Sling Gun Stock ($77.39)
• Survival Knife (2nd shin tool) ($18.47)
• Webley Flaregun ($851.24)
• Webley Flaregun Barrel ($242.64)
• Webley Flaregun D-Bracket ($72.71)
• Webley Flaregun Handle Grip ($76.48)
• Webley Flaregun Mechanical Parts ($60.55)
• Webley Flaregun Stock ($410.36)
• Webley Flaregun Trigger, Trigger Guard & Hammer ($22.81)

Vendor Link
Listing last updated December 9, 2022. Pricing subject to change as determined by the vendor.
---
Save that you have, want to have, or simply like the work of this vendorLogin to save your selection
My Costume
BFFC Member Costumes
bobason101
likes this vendor's work
BFFC Admin
likes this vendor's work
POPULARITY
2,056 hits
Note: vendors are listed at our discretion and linking does not equal 100% endorsement. Vendors need a baseline of positive customers. If we observe a lot of complaints, we reserve the right to remove vendors.