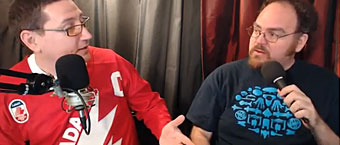 Tonight, director Jon Schnepp (Metalocalypse) mentioned on AMC Movie Talk that he can confirm a Boba Fett film, supposedly written by Lawrence Kasdan, but won't mention his source.
"One of them is Boba Fett. It is. I know. I know for a fact. I will never reveal my source, but it is the one written by Lawrence Kasdan."
This has been a rumor through now — and it's unclear if this is news, real or not. He later says he "thinks" the new animated series is called "Rebels," which has been confirmed for a while now.
Jump to 4 minutes 10 seconds in the clip below:
The AMC Movie News hosts call out "you heard it here first," and Schnepp perhaps jokingly cites a blog that isn't found by Google, "cosmic book movie news."
Perpetuated rumors here or is something deeper going on here?
(Hat tip to PJ Campbell for the initial tweets about it.)
[Update 1/16/2014: We've contacted Jon directly multiple times since January 2nd for an additional quote and/or further qualitative information. Our queries were not returned.]