Got a Boba Fett lover who's worth a lot to you? Here are some seasonal things you might be interested in for your February 14th.
Updated for 2015!
Valentine's Day Cards with Boba Fett
Cards "Plus" * with Boba Fett
(* Society6 prints on all kinds of objects, like mugs and shirts)
Target

For 2015, Target has Valentine's Day comic book mugs/cups. Some of the vintage artwork includes Boba Fett. They retail for $7.99. JediNews shared a photo and YodasNews.com shared a photo (pictured here).

There's a Star Wars Heart Tin of chocolates, which includes Boba Fett. Mike Mozart shared a photo (pictured here).

Another Star Wars Heart Tin contains lollipops and sorts a dedicated Boba Fett box. "I've got you in my sights, Valentine" is on Fett's cartoon text bubble. FlyGuy.net shared a photo (pictured here).
Gone, But Not Forgotten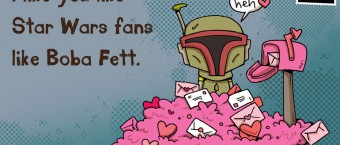 In 2014, StarWars.com had an e-card feature where you could send this digital artwork to someone for free. Artwork by Katie Cook.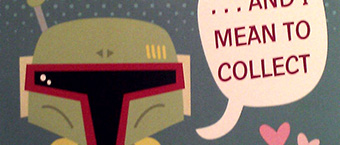 In 2013, "There's A Bounty On Your Heart ... And I Mean To Collect" was included as a Valentine's Day card in the "Star Wars: A Very Vader Valentine's Day" activity book. Artwork by Katie Cook.